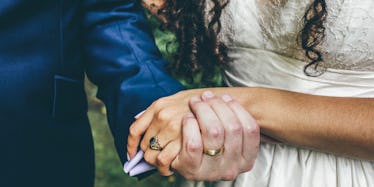 The Way We Get Engaged Now Is So Different Than The Way Our Parents Did It
Magida El-Kassis
You probably clicked on this article expecting the author to be a woman.
Because traditionally speaking, women are the more expected to be the ones to talk shop about weddings, as evidenced in "bridal" magazines, television shows and, like, all of history.
But I'm writing this piece because I'm an engaged man who is currently planning his wedding. And I've come to learn it is a royal pain in the ass.
My fiancée is the creative force behind the event, and I've been elected "the doer" of said event, meaning I make her ideas happen by contacting vendors, budgeting and so on and so forth.
I'll admit I didn't expect the planning process to go this way.
I figured, once I proposed (which I somehow made happen by writing a proposal in Elle Canada magazine, which then went viral), my fiancée would then rush to purchase the magazines, excitedly call every vendor within a 10-mile radius of our city and have everything done within a matter of weeks.
But since we're both very busy with work, this hasn't happened. In fact, very little has been accomplished.
To get some perspective, I reached out to online wedding resource WeddingWire and was put in touch with Anne Chertoff, WeddingWire's trend expert.
I then picked her brain about what's expected of millennial engagements and weddings, as well as future trends.
Here's what I found out:
1. More couples are shopping for rings together.
I hate this idea. Not only because it ruins the romanticism behind a partner's choice in ring, but also because it completely ruins the coveted surprise of the engagement.
According to WeddingWire's Newlywed survey, 31 percent of couples now shop for rings together. This is something of a new development.
31 percent of couples now shop for rings together.
The majority of us (47 percent), however, still respect tradition and purchase a ring for the recipient ourselves.
"An engagement ring is an expensive investment and the kind of gift you want to get right, so it's no surprise that mutual decision-making is on the rise," Chertoff says.
What's worse is almost 10 percent of those surveyed insist the recipient chooses the ring. Which, personally speaking, is a terrible -- and dare I say selfish -- idea.
Chertoff disagrees, insisting "knowing the ring that's coming your way doesn't ruin the surprise of the proposal itself because that moment could come at any time, keeping you on your toes with anticipation."
2. We've invented the "proposal after-party."
When I first heard of such an event, I figured a proposal after party was nothing more than an embellished party that comes before the engagement party. And I was kind of right.
A proposal after-party is to be held immediately after the proposal takes place. So, say your proposal occurs over a romantic, candlelit dinner, the proposal after-party could be a celebratory dessert and drinks with friends at another location.
"Proposal after-parties can be defined as the same-day or soon after," Chertoff asserts.
"Maybe a parent gives an impromptu cheers, but there's no formula like at a rehearsal dinner where specific speeches are made," she says. "To guests, you'd send an invite via mass email or text message."
What are the key differences between a proposal after-party and an engagement party? "An engagement party is a planned event held several weeks or a couple months after the proposal took place," Chertoff says.
So essentially, the only difference between the two events is how long after the proposal the party takes place.
3. We're done with over-the-top proposals.
Indeed, gone are the over-the-top flash mob proposals (thank GOD). Couples are now looking for personalized touches to make the proposal more intimate.
"Everything comes in waves," Chertoff remarks. "I don't think that over-the-top proposals are officially a thing of the past, it's just that people have decided that it should be a more private moment."
And I concur, intimacy should trump grandeur every time.
But that doesn't mean we don't want this milestone fiercely documented — we do live in the age of Instagram, Snapchat and other selfish social media services, after all.
WeddingWire's research shows 12 percent of people hire photographers to capture their "just said yes" moment, with 66 percent of couples sharing the news (often along with a choice photo) through social media.
4. We spend WAY too much time on our weddings.
The budgets you are about to witness below absolutely terrify me.
According to Chertoff, the average wedding costs roughly $30,000. This price excludes the engagement ring and honeymoon, so tack on another $10,000 for those necessary luxuries.
The average wedding costs roughly $30,000, plus an added $10,000 for the engagement ring and honeymoon.
WeddingWire's data shows that half of couples pay for the majority of the wedding, while the other half hands the bills over to their families.
It's also worth mentioning here that three quarters of newlyweds come in over budget when planning a wedding.
5. Our proposal dates are too typical.
I thought we were better than this, millennials, I truly did.
WeddingWire's data found that Christmas day was the most popular date to get engaged in 2015 (a date my fiancée was fiercely against for the inherent laziness of it all), followed by Valentine's Day (barf) and Christmas Eve (double barf).
"The holiday season is a popular choice because it's a time when people are geographically close to their families who are home for the holidays," Chertoff says. "So it's a great time to get engaged, because then you can celebrate with your parents, siblings, and relatives."
I get it, I totally do. I just think proposing on a holiday takes away from the significance of both the proposal and the holiday.
Proposing on a holiday takes away from the significance of both the proposal and the holiday.
Why not make some random, non-significant day suddenly significant? That says romance to me.
6. The budget for engagement rings remains true to tradition.
According to WeddingWire's Newlywed Survey, the guy or gal proposing spends an average of $5,000 on an engagement ring.
Some people (35 percent) say they spend at least two-months salary on the ring. This is, and has always been, expected, despite the sum one makes in two months has never remained consistent.
7. Engagement photos aren't going anywhere.
I don't mean to come across as a Grinch here, but I just don't understand the idea behind engagement photos.
You're engaged, you took a photo of the ring and now you should be saving money for the big day, not spending money on a photographer to take photos of the two of you in a local forest taking the same standard photos you've seen dozens of times before.
Again, Chertoff disagrees. "Engagement photos aren't going anywhere," she says.
"It's a fun way for people to share their exciting news, and oftentimes photographers will take some snaps for free once you've contracted them for your wedding -- save the date images could not be easier!"
8. 2017 wedding trends further reflect the millennial lifestyle and internet culture.
My final question for Chertoff was what we can expect in the next year for weddings. Unsurprisingly, 50 percent of couples have created a custom hashtag for their wedding (#BoxWedding2016!).
50 percent of couples have created a custom hashtag for their wedding.
Other noteworthy trends Chertoff notes are: Themed rehearsal dinners, white weddings, neon light-up signs, silent discos (headphones for music), animated photo booths (GIFs, flip-books), pear-shaped engagement rings, jumpsuits for bridesmaids, industrial venues, and, somehow, some way, drones.