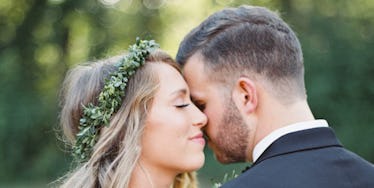 This Brunch-Themed Wedding With Waffles For Dinner Is Every Girl's Dream
Samuel and Abigail celebrated their love for each other this September by hosting a wedding that included the one thing everybody loves most: BREAKFAST FOOD.
Yep, that's right.
Abigail and Samuel, whose wedding was recently featured on Style Me Pretty, had WAFFLES, HASH BROWNS and everything else yummy and delicious available to fill guests' tummies at their brunch-themed wedding.
I'm not even one of those people who's like crazy obsessed with breakfast foods. But TELL ME with a straight face that a waffle bar doesn't sound way more delicious (and way more fun) than a salmon you checked off a box for when you got the wedding invite seven months ago.
Seriously, look me in the eye right now and TELL ME this delicious plate doesn't look about a million times better than a piece of salmon sitting next to some asparagus.
(I know you can't actually look me in the eyes... don't be a smart-ass.)
When it comes to breaking tradition, this couple didn't just ditch a traditional dinner menu.
No, they went above and beyond.
Rather than having your standard 10 or 11-member bridal party (total), Abigail and Sam had a 30-PERSON BRIDAL PARTY.
Can you say popular?!!
So, beyond having great taste in food and somehow managing to find everlasting love in a world so hopeless and so cold, the two are apparently also decent enough human beings to each have 15 people who love them enough to devote endless amounts of time and money on being in their bridal party.
Here's the happy couple looking all in love, dancing in front of their friends and family in some old barn that looks like where fairies used to live in.
Plus, Abigail got a PRETTY fly engagement ring, if you ask me.
If those pictures weren't enough to convince you they had the BEST WEDDING EVER, check out their adorable wedding video below and brace yourself for ALL THE FEELINGS.
Brunch and friends, guys. It's ALL you need!