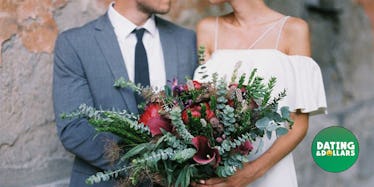 Why Getting Married Made It Easier For Me To Save Money
Milles Studio/ Kylah Benes-Trapp
It's a little ironic to have marriage and savings in the same sentence, since weddings are the equivalent of sacrificing your first born just to pay for them.
But the wedding day is where the priceless moments happen, a pivotal experience that made me realize everything was about to change, for the better.
For me, it happened walking down the aisle to my husband. We both broke out into tears, but partly because, for me, the real "adulting" was settling in and I was living out something I never expected for myself.
At 24 (and no I don't have kids), you don't expect to make such huge life decisions, but amazing people will tend to bring that out of you.
And with marriage, came other random gold-star worthy achievements. I started saving money, without a fight or some lecture; my savings account was given mouth-to-mouth.
Now, this super power of saving in my almost mid-20s didn't come from a spider bite or some clinical study gone awesomely wrong; it really just came from my marriage.
Here's how:
1. Encouragement
When you get married, even the little accomplishments go noticed.
I could have made the bed or done the laundry, and with a supportive partner, those things are simple but rewarding battles won.
Encouragement really is key in saving money.
Saving money is no different, especially when I didn't start off that way.
I get to share every time I put more and more aside and my husband joins in that little moment of excitement with me. It' a good conversation starter when maybe we are crunched for time in between work, etc.
Encouragement really is key in saving money. It starts with yourself and having a partner that is as determined as you couldn't hurt.
2. Good deed pays off for two
It's hard to do anything if it doesn't seem like it's paying off. When you're married, you aren't just living and doing for yourself; it's a team effort.
You never have to be the last one picked on any team because you are your partner's first pick on your own team. When you let the idea of saving for more than just yourself be one of your mottos, it is a lot easier to save.
Allowing a sense of selflessness to settle in really is a catalyst for your money saving goals. Also, when you can have a little savings for a rainy day for you and your partner, it's very comforting to know that you can contribute to the fun activities the two of you want to do.
3. Future endeavors are less intimidating
When I got married, the future wasn't so scary because someone was literally going to be holding my hand through it. OK, that was cheesier than gouda, but it helped me save the cheddar.
When you start aspiring with your partner about things you want to possess or acquire in the future (and not just kids), you start saving. Even if it is just a little bit at time, you are working toward a goal that, again, is for more than just you. It keeps you driven.
4. Admitting the brokenness
The first step to solving a problem is admitting you have one. I was broke for a bunch of different reasons (college, college and college), but I tried to maintain polished on the outside.
When I started to open up about my pitiful pockets to my husband before we even got married, it was a lot easier to accept that maybe I hadn't made all the right financial decisions.
Life isn't permanent; it is always evolving and changing, and so could my financial situation.
When I cleaned my slate of any denial of my horrible finances, it was a lot easier to turn it around. Having the open and nonjudgmental ears of my husband to listen was the stepping stone I needed.
5. Started from the bottom now we're here (Thanks Drake)
Because my husband and I were both experiencing the "come up" -- in other words, both trying to muscle our way to financial stability -- it seemed a lot more realistic to do.
Oddly, when you realize you aren't the only one trying to do something, you don't feel so lonely or weird trying to do it.
Marriage also pays off your emotional debt.
My husband and I came from similar financial hardships, which made it easier to come up with goals or rituals of saving so we never had to go through those unfortunate times again. At least if we did, we had a method to combat it. Not bad for two 20-something-year-olds.
Marriage isn't necessarily the life-ending thing people try to make it out to be. It was life altering for me and my financial stability in the best way possible.
Now, don't run and get married just to help your pockets. (Prepare for cheesy line now.) Marriage should be more than just about money. It's a priceless union that pays off any emotional, physical or mental debt you may have if you do it right.