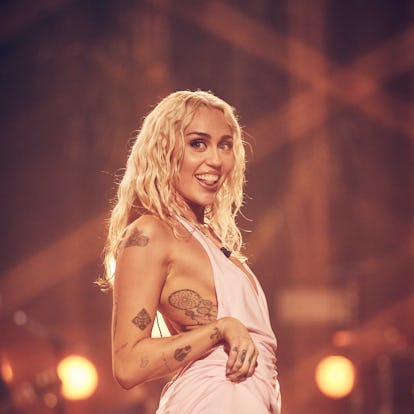 How Miley Cyrus' Zodiac Sign & Birth Chart Affect Her Love Life
That Scorpio moon makes things spicy.
NBC/NBCUniversal/Getty Images
On March 10, Miley Cyrus is releasing her eighth studio album Endless Summer Vacation. The first single off the album, "Flowers," was widely thought to be about her ex-husband Liam Hemsworth. So, it's no wonder that fans are curious about Cyrus' current romantic life. Though the singer has remained pretty tight-lipped about her relationship status, Cyrus' zodiac sign and birth chart say plenty about the type of partner she is.
Born on November 23, 1992, Cyrus is a Sagittarius sun, Taurus rising, and Scorpio moon. Looking at Cyrus' chart, astrologer Chelsea Jackson explains, "It might take her awhile to open up, but once she does, she's hooked." Cyrus' public relationships, including her marriage to Hemsworth and her romance with Cody Simpson, have all been pretty intense — so, yeah, that checks out.
Read on for all the details on Cyrus' astrology, and how it might affect her dating life.
Sagittarius Sun
As a mutable sign, Sagittarius is known for being flexible. The archer tends to go with the flow, which makes them extra adventurous — and very appealing as a partner. As lovers of freedom, though, this sign tends to take their time settling down.
As Cyrus sang in her unreleased song "Sagittarius," "I'm a cheetah, not a zebra / Better run faster, I'ma eat ya / Sagittarius, not a Libra / I'm on my new sh*t, nice to meet ya." In other words, Cyrus can relate to Sagittarius' characteristic fast moves and constant changes.
In an interview with Apple Music's Zane Lowe on Nov. 23, 2020, Cyrus explained how her mindset impacts romantic relationships. "I get wanting to have partnership and I get that people want to create families and I really get the longing for love," she said. "Animals pair up, it's instinctual... That's programming. And I try to not be a total servant to the programming... So if I can disconnect from, 'Well, that's what I'm supposed to want, but I don't. And I'm okay with it.' And I do."
Taurus Rising
Those with a Taurus rising place a lot of value on reliability and routine — hence their symbol, the bull. A fixed sign, Taurus searches for a dependable partner who is there for them. This fits right along with what Cyrus herself has said about relationships. "When I come home, I want to be anchored by someone. I don't get off on drama or fighting," she told Howard Stern in December 2020, per Us Weekly.
Scorpio Moon
Scorpios are complicated. They're empathetic, ambitious, and strategic, not to mention full of passion and intensity. Scorpio is considered the most sexual sign of the zodiac. "She's got her Scorpio moon in the seventh house of relationships, which definitely points to very intense romantic encounters," Jackson explains.
For an A-list celebrity, Cyrus has been very open about her sex life. In a 2015 interview with Paper Magazine, Cyrus explained, "I am literally open to every single thing that is consenting and doesn't involve an animal and everyone is of age. Everything that's legal, I'm down with. Yo, I'm down with any adult — anyone over the age of 18 who is down to love me. I don't relate to being boy or girl, and I don't have to have my partner relate to boy or girl." Considering Cyrus is a Scorpio moon that thrives on passion (plus a Sagittarius sun that's open to adventure), this open-mindedness shouldn't come as a surprise.