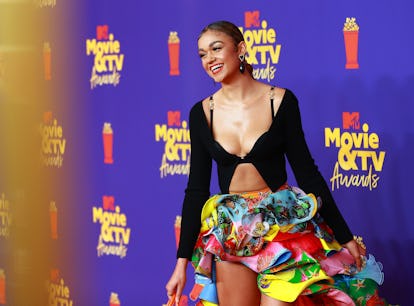 Madison Bailey's Zodiac Sign Makes Her A Thoughtful, Spirited Partner
And she's so compatible with her Pisces girlfriend.
Matt Winkelmeyer/2021 MTV Movie and TV Awards/Getty Images Entertainment/Getty Images
On Outer Banks, Madison Bailey plays an effortlessly cool rebel who isn't afraid to do her own thing — and if Bailey is anything like her character Kiara, it makes complete sense she's a free-spirited Aquarius. Aquarians are known for their fierce independence, but that doesn't mean they don't know how to commit fully and wholeheartedly when they're in love. As partners, Aquarians are thoughtful, creative, and passionate. And in and outside of relationships, they're bold, confident, and unafraid to speak up for themselves and their loved ones.
This description definitely seems to fit Bailey: She's been outspoken about her identity, pansexuality, mental health, and relationship with UNC basketball star Mariah Linney, who she's been dating since June 2020. "I've never been accused of shying away from important topics. I talk about things that matter, things that other people are uncomfortable to talk about," Bailey told Elle in October 2020. "I feel like so much of my mental health and so much of my sexuality plays a huge part in who I am."
So, what else can we learn about Bailey (and her love language) from her zodiac sign? Let's look at the stars.
Bailey's Outer Banks character, Kiara, definitely approaches relationships like an Aquarius: Just look at her short-lived fling with Pope (Jonathan Daviss). Maybe in Season 3, she'll find the kind of long-lasting love Bailey found with Linney.