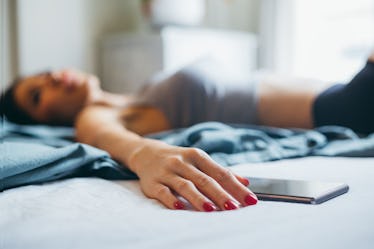 If Nothing Turns You On More Than Sexting, You're Probably One Of These 3 Zodiac Signs
How much do you love sexting? If someone were to send you a naughty pic, would you be into it? Or does dirty typing weird you out? Maybe you're the one who's actually initiating the sexy chat with your boo, every chance you get. Nudes are NBD, and the dirtier the digital dialogue, the better. Sound familiar? If you can't get enough hot font action, well, chances are, you were born that way. What I mean is, you're likely one of the zodiac signs who love to sext. And no shade if that's you — sexting is hot and fun, and if it gets you off (and you have a consenting recipient) then I say, go for it! Let those freak-flag fingers fly across the keyboard.
While sexting is pretty safe to engage in for the most part, there are a few things you always want to keep in mind. First and foremost, never include your face in your nudes. Sure, the person you're sexting with seems like they have a heart of gold now, but you never know what could happen in the future. If you wouldn't have unprotected sex, don't have unprotected sext, either. And make sure that whoever you're sexting with really is consenting. It may seem harmless, but as anyone who's been ambushed by an unsolicited and unwanted pic of a rando D knows, it can actually be really uncool. Don't be that person.
Aside from that, whatever you both are into, goes. But who am I kidding? If you're one of the following zodiac signs, you don't need my advice. Chances are, you're already a sexting pro.