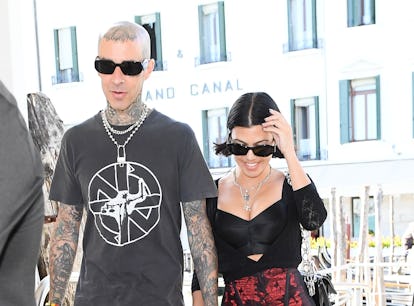 Kourtney & Travis' Body Language In Italy Gave Off Mixed Vibes
Is it legit, or just for show?
Photopix/GC Images/Getty Images
Whether they're posting unabashedly thirsty Instagram photos or making out in public, Kourtney Kardashian and Travis Barker aren't shy about showing a little (read: a lot of) PDA. Kourtney and Travis' body language on their trip to Italy is no exception, either. The two have been photographed making out left and right (get it, girl). But even though they tend to lay it on thick for the paparazzi and on social media, their connection is much more natural and laid back than haters might think. (Ahem, Scott.)
Take, for example, Kardashian's Aug. 29 Instagram post, which shows the couple making out on a boat. It's very different from Kardashian matriarch Kris Jenner's cozy, more candid pic of the two. With rumors of a possible engagement on the horizon, can these internet-breaking photos reveal anything about the state of Barker and Kardashian's relationship?
As it turns out, maybe they can. I caught up with Traci Brown, a body language expert and author of Persuasion Point: Body Language and Speech for Influence, and Patti Wood, a body language expert and author of SNAP: Making the Most of First Impressions, Body Language, and Charisma, who got to the bottom of all those steamy pics. Here's what they think.
Because Barker and Kardashian are so unrepentantly open on social media, it can be hard to tell what they're really like one on one. But even in their most over-the-top, blatantly staged photos and videos, it's undeniable that these two seem really comfortable together — and based on their suggestive posts and captions, I have a feeling there's also a lot of body language they're still keeping to themselves.
Experts
Traci Brown, body language expert and author of Persuasion Point: Body Language and Speech for Influence
Patti Wood, body language expert and author of SNAP: Making the Most of First Impressions, Body Language, and Charisma