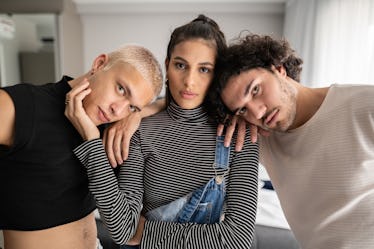 How To Deal With Hating Your Partner's Friends, According To Experts
The struggle is *so* real.
FG Trade/E+/Getty Images
Tell me if this sounds familiar. You've finally found the perfect boyfriend. A soulmate-level connection. Everything about them is a perfect fit for you. You honestly wouldn't change a single thing about them — except there's one little thing you can't stop thinking: "I don't like my boyfriend's friends." OK, fine. You're actually thinking, "I hate my boyfriend's friends."
You're really not trying to be mean but they're the worst, and if it were up to you, you'd never have to see them again. But here's the issue: You don't want to lose this amazing person just because of their awful friends. So what to do if you don't like your partner's friends? You don't want to be that person who expects their SO to drop all the people they care about just because they're in a relationship... but you also shouldn't have to be put in a situation where you are made to feel really uncomfortable by their friends either, right? Right.
In situations like this, when it seems like there really is no right answer, there's only one place to go for advice — and that's to the pros. Here's how expects suggest navigating these emotionally treacherous relationship waters in a way that doesn't involve biting each other's heads off.
One of trickiest parts of a new relationship can sometimes be the fact that it also means entering into relationships with all the other people in your partner's life. Some of them you're going to mesh with right away, while others will take some work, and some you simply won't click with at all. Whatever the case, just be honest with your partner — maybe they can even do something to help.
Experts:
Susan Winter, relationship expert and love coach
Diana Dorell, dating coach
Erica Gordon, dating expert, founder of The Babe Report, and author of Aren't You Glad You Read This?
Dr. LeslieBeth Wish, psychotherapist and founder of Love Victory
Editor's Note: This story has been updated by Elite Daily Staff.
This article was originally published on