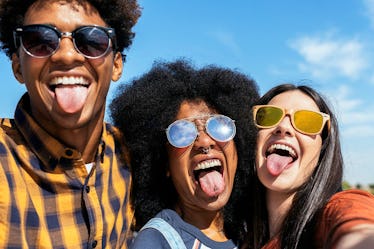 Experts Say If You Don't Trust Your Partner's Friends, This Is Why
I love the time early in a new relationship when you go into full honeymoon cocoon mode — when the world becomes about the two of you and it feels like nothing could ever come between you. Eventually, this phase has to end; neither of you can let all your texts and calls from friends go unanswered forever. At some point, you have to start introducing each other to your respective friend groups, and sometimes that's amazing because suddenly your number of friends doubles. However, when the opposite happens and you feel like you don't trust your partner's friends, that can get really complicated, really quickly.
While it definitely doesn't feel good to be in a situation where you don't trust your partner's friends, does it actually really matter? Or is it something you can just shrug off? According to Erica Gordon, dating expert, founder of The Babe Report, and author of Aren't You Glad You Read This?, it actually is kind of a big deal. "It's important to trust your partner's friends because it's important to feel that their friends respect and support your relationship," Gordon tells Elite Daily. In that case, it is worth trying to find a resolution so that, at the very least, you can all peacefully coexist. Before you can get to a solution, however, you first need to identify what it is about your SO's friends that you don't trust. Here are the reasons Gordon says you may be feeling this way about them.