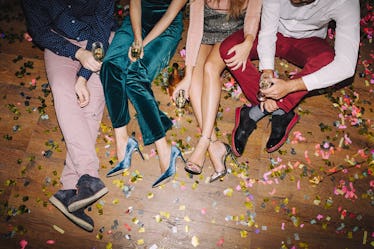 If It's Your First New Year's With Your Partner's Friends, Remember These 4 Things
Spending significant holidays with your partner and their crew for the first time can be super intimidating. Even when you feel secure in the relationship, feeling nervous or anxious about hanging out with their group of friends on New Year's Eve is totally normal. Thankfully, your first New Year's with your significant other's friends can not only be fun, but it can also present a great opportunity to get to know the people closest to them on a deeper level.
If you've never met bae's friends before, then the pressure may feel a bit more intense than if you've already had a chance to break the ice. Either way, the truth is that while their friends' opinions may hold some weight, you are dating your partner, not their friends. So, it's important to remember that your SO is your bae for a reason: because they really like you! Any solid group of friends that genuinely wants your partner to be happy will want to make you feel comfortable and included in the evening's events. To get some more tips on how to approach spending time with your partner and their friend group, I spoke to NYC-based relationship expert and love coach Susan Winter. Here's what she had to say.