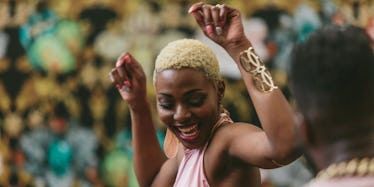 5 Tips For Feeling Confident AF Around Your Partner's Friends & Family
You're spending Thanksgiving with your partner's family this year for the first time, or you're tagging along with your SO and their buddies for game day. You want to be sure they like you, since you may be in their lives for some time, but you're reluctant to showing your full self, since you're scared they may not like you. It's a cursed cycle! If you're struggling to feel confident around your partner's friends and family, I've rounded up some tips from experts to help you out.
"Pay attention to why you feel nervous," Dating coach Diana Dorell tells Elite Daily. "If you're nervous because you really care for your partner and see a future and worry that they will like you or not, that's pretty normal."
Whether you're meeting your partner's friends and family for the first time in your relationship, which is understandably a big milestone for you both, or are lacking confidence after meeting them a few times, there are steps you can take to gain more confidence. Just like with any other aspect of your life, like academically, professionally, or socially, there are tricks you can do in order to feel most yourself around others. Read on for some tips on feeling more confident around your partner's family and friends.