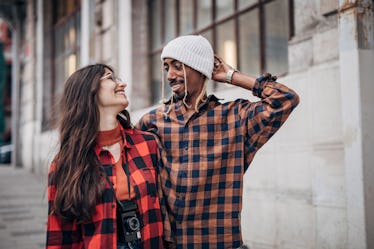 Here's How Often You Should See Your Partner, According To Experts
The answer depends on a few things.
South_agency/E+/Getty Images
Recently, I've become a huge fan of setting relationship boundaries, most because — in the past — I didn't set boundaries at all. It used to be the case that, whenever I got into a new relationship, my immediate reaction would be to go all-in way too quickly, and the results weren't always the best. Now I take the time to ask myself questions like, "How often should you see your boyfriend?," and, "How often should you talk to your girlfriend?," and, "How many nights should you sleep over your partner's place?" I've learned from my past, and I know now that jumping in too quickly only leads to a relationship burning out too fast.
Before I get into my theories and research on this, it's important to note that there is no "right" method for every relationship, since every couple is different and has different circumstances, personalities, and preferences. Ultimately, the answer to, "How often should I see my boyfriend or girlfriend?" totally depends on you and your SO. Your relationship is just that: your own. What works for one couple might not work for another, and that's OK.
If you are still stuck trying to figure out what is best for you, here's a guideline of how often you might consider hanging out with your partner, because everyone's answer to, "How often do you see your boyfriend or girlfriend?" is likely different.
Of course, it's still important to remember there are no rules or formulas that determine exactly how many times a week you should see your partner. It depends on so many tiny factors like your mood, your schedule at work and school, and sometimes even the weather. If you've found a routine that works well for you and your partner, go with it. You don't need to justify it to anyone else in your lives.
Experts:
Nikki Leigh, certified love coach and host of Ready For Love Radio
Logan Ury, Director of Relationship Science at Hinge
Editor's Note: This story has been updated by Elite Daily Staff.
This article was originally published on