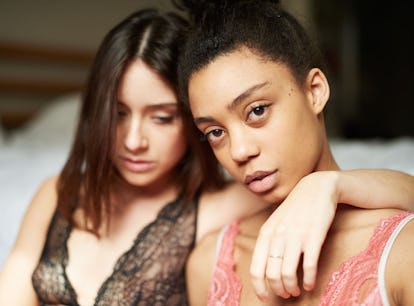 If Your Relationship Is Suffocating, You'll Notice These 5 Signs
Non-stop texting is a major red flag.
Romantic relationships can be difficult at times. Occasionally, your relationships might require some mediation, a little bit of trial and error, and a lot of communication to work things out. This can definitely be the case after you and your boo leave the honeymoon phase, or as you and your partner face life changes. However, a partnership should never feel like a burden, and if you're feeling smothered in a relationship, then there a few keys signs you'll likely start to notice.
A suffocating relationship can take a number of forms. It can be a needy partner who craves your attention and leaves no room for friends or family. It can be a codependent relationship that demands all your time and energy. A stifling relationship can even turn toxic if your partner wants control over every part of your life. No matter how or why you're feeling suffocated in a relationship, the end result is missing out on the joy and fulfillment a healthy romantic partnership is supposed to bring.
Feeling smothered in a relationship does not necessarily mean you're being abused by a partner. Abusive behaviors include — but are not limited to — gaslighting, angry outbursts, and threats. If your relationship ever feels more unsafe than stifling, then it's time to seek help. As Dr. LeslieBeth Wish — licensed clinical psychotherapist, relationship expert, and author of Training Your Love Intuition — previously explained to Elite Daily, "If the behavior becomes verbally cruel or physically threatening, seek counseling just for you to learn about developing a safe plan. Never threaten to leave — that is most often when abuse gets worse."
Here are five red flags you'll notice if your relationship is suffocating you — and five signs it's time to talk things through with your partner (or, honestly, break up!).
If you're feeling suffocated by an SO, then it's important to have a convo about your needs and desires. Talk frankly about self-care and taking time for yourself. Re-establish boundaries. You deserve a partner who's going to gas you up, be your equal, and nurture your well-being, and if your partner isn't willing to change, then these red flags are grounds for breaking up.
If you or someone you know is experiencing domestic abuse, call 911 or the National Domestic Violence Hotline at 1(800) 799-SAFE (7233) or visit thehotline.org.
Sources:
Susan Winter, relationship expert
Dr. LeslieBeth Wish, licensed clinical psychotherapist, relationship expert, and author of Training Your Love Intuition
Monica Parikh, love coach
Kali Rogers, founder of Blush Online Coaching
Editor's Note: This story has been updated by Elite Daily Staff.
This article was originally published on