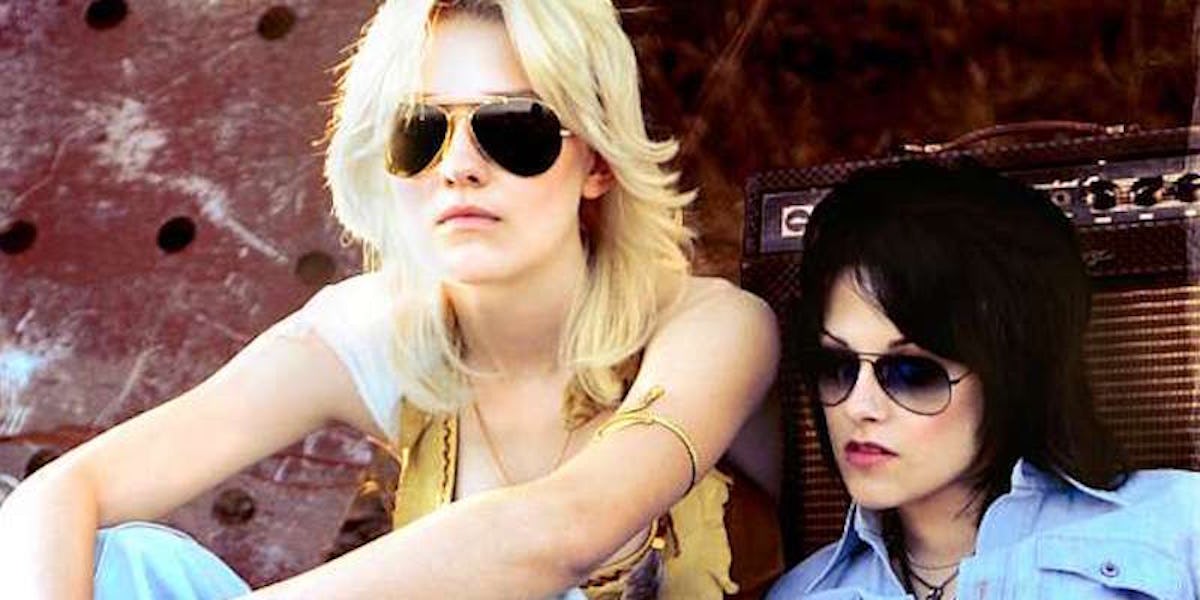 The Best Lesbian Couples Halloween Costumes (That Aren't BFFs Or Sisters)
Sony Pictures
Confession: The thought of couples costumes for Halloween makes me vomit in my mouth a little bit. I think I was scarred once by seeing a straight couple dress up as peanut butter and jelly, and it haunted me for the rest of my life.
I'm a firm believer that a Halloween costume should be a bit chic, sexy, clever and badass to be effective. I'm not into the whole "this is so corny and FUNNY in an IRONIC way" garbage that lazy hipsters resort to because they lack imagination and vision.
But hey, I'm getting older and starting to realize that no one likes a smug lesbian bitch, so I'm slowly but surely warming up to the whole idea of couples costumes
However, I haven't seen many killer lesbian couples costumes. I mean, look, you just can't dress up as besties, like "Romy and Michelle's High School Reunion." It's bad enough people mistake us for sisters and roommates in our day-to-day life, let alone on our beloved holiday.
So with the help of my wildly-creative Facebook friends (who enthusiastically chimed in when I asked for lesbian couples costume ideas), I brainstormed some pretty awesome Halloween costumes for us sapphic couples. Here they are:
Cat Woman and Wonder Woman
Wicked Kitty Costume, $60, Yandy 
Mighty Comic Hero Costume, $70, Yandy 
We all know Wonder Woman has been officially announced as queer, and Cat Woman is totally a bisexual vixen. You're not fooling anyone with all that leather and all those ~purrs~.
Plus, think about how steamy and kinky your sex will be when dressed up as these hot, heroic babes.
Scissors
Cute Paper Doll Costume, $50, Yandy 
Miss Scissorhands Costume, $55, Yandy 
Contrary to popular belief, some lesbians do scissor. It's an advanced move for the advanced lesbian, but it does, in fact, happen.
So why not dress up as this mythical lesbian sex position? I love going a little low-key, like an Edward Scissorhands look or just straight-up silver scissors.
Remember to take your painful scissor costume off before actually scissoring, please. Scissoring is hard enough, and you don't need to get kicked in the head with a massive, silver-scissor prop in the process.
Xena: Warrior Princess and Her Side Kick Gabrielle
Xena and Gabrielle were definitely having sex. Thanks to my lovely friend John, who sweetly suggested this costume, you and your girlfriend could be having the steamiest warrior sex on Halloween night.
While I prefer a DIY warrior-princess look, there are plenty of options for those of you who don't like to get your hands dirty. (But really, what lesbian doesn't like to get her hands dirty?)
Poison Ivy and Harley Quinn
No Good Harlequin Costume, $64, Yandy
Poison Ivy Costume, $78, Yandy
Poison Ivy and Harley Quinn was a badass suggestion from my friend Kaylee, and I have to say, it's not one I thought of before because I'm not really a Batman fan (gasp).
However, I know lots of lesbians who love comic books. So, girls, I might not be you, but I have your backs. This is a place for all kinds of lesbians, and my goal is to help every last one of you!
Plus, these are incredibly sexy costumes that can be store-bought, or if you're just a kinky kitten with a hankering for fetish-y lingerie, you might even have some in your closet.
Just don't go back inside when digging for it, OK?
Alex and Piper/Taystee and Poussey from "Orange is the New Black"
Yes, I get that this might be overdone, but I still think it's an amazing show and a great costume idea for the lazy lesbian, who just wants to be wearing glorified pajamas on Halloween night.
Plus, all the sites sell the basic jumpsuit. Embrace your basic, baby. You know, "basic" isn't just a word for the straight people; it's yours to claim, too.
The dancing girl emoji
My lesbian-bartending-extraordinaire bestie, Kerissa, came up with this idea, and I think it's a great option for lesbians who don't mind dressing exactly alike — not so different from the "OITNB" costume, except more revealing.
It's great for you fitness couples who want to show off those legs. And it's easy AF.
Just throw on a leotard and a pair of ears, and walk around with your hands on your hips... until you get drunk, and your hands are all over each other.
Adele and Emma from "Blue is the Warmest Color"
Blue glow wig, $20, Yandy 
I don't care if the movie is old; it's a modern classic for those of us who weren't put off by the "unrealistic sex scenes." (What sex scenes in Hollywood are realistic?)
Plus, I bet you can dig out stuff from your own wardrobe for this look and just buy the Blue wig online, you lazy lesbian! I don't know why I didn't think of this one, but lucky for me, my friend and colleague Rebecca did.
U-Haulers
The U-Haul myth is true because according to doctors, we're at high risk for love addiction (and moving in too soon can be a byproduct of love addiction).
Why not embrace it and go as U-Haulers, girls? You can get your lesbian U-Haul shirt here, or go traditional and get an authentic one like this:
Though, I think it's better to support the ~rainbow vibes~ because we all know our beloved gay businesses are closing down at an alarming rate.
Cherie Curie and Joan Jett
I can't think of a sexier female rock couple (also a suggestion from the lesbian bartending babe, Kerissa). There's so much sexual tension, you can feel it through their pictures.
Make it come to life, darlings! And if you don't have a '70s wardrobe, check out Dolls Kill for some awesome retro-rocker clothes.
Corky and Violet from "Bound"
This movie might not even be on the radar for some of you super-young millennials, but IT SHOULD BE. This movie practically made me a lesbian, and the two lead characters are beyond sexy. Plus, you can definitely pull this one out of your own wardrobe.
So there you have it, girls. I promise these will definitely not get you confused for best friends, twins, sisters or any other of that ~GAG~ shit.