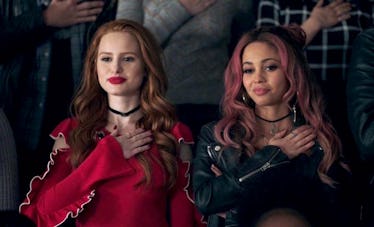 These Cheryl & Toni 'Riverdale' Halloween Costumes Are Perfect For All Serpents & Vixens
CW
Riverdale may have been all about Archie and Veronica or Betty and Jughead at the beginning, but after the latest season, every fan of the show knows that the undisputed best relationship on the show is between reformed mean girl Cheryl Blossom and new Serpent in town Toni Topaz. Season 2 of Riverdale brought the two unlikely characters together to create the show's most beloved power couple, and you can channel that fierce yet adorable energy this Halloween as well. These Cheryl and Toni Riverdale Halloween costumes are guaranteed to rule over all the other guests at your party.
Dressing up like Cheryl Blossom and Toni Topaz is the perfect Riverdale Halloween costume for this year. Last year, it seemed like everyone was dressing up as Archie and Veronica or Betty and Jughead... or even Archie and Betty. But that is only because the CW dark teen drama had not yet introduced us to Choni. In the show's second season, Toni Topaz popped up in town as the Southside Serpents' tough but caring female member, and it did not take long for her to spark up a romance with Riverdale High's resident queen bee Cheryl Blossom.
To totally channel Cheryl and Toni this Halloween, check out some of these costume ideas below:
1. Classic Vixen & Serpent
Riverdale Cheerleading Practice Costume ($39.99 at Spencer's), Riverdale Southside Serpents Faux Leather Jacket ($69.90 at Hot Topic)
Play up the dichotomy of Cheryl Blossom and Toni Topaz's sweet-and-spicy relationship with their most iconic looks from Riverdale: Cheryl's cheerleading practice outfit and Toni's Southside Serpent jacket. Spencer's has a full Riverdale cheerleading costume for $39.99, and you can grab your very own Southside Serpents jacket from Hot Topic for $69.90.
2. Drag Race Divas
Samira Bra Top ($39.20 at Guess), Red High Waist Sailor Shorts ($28 at Unique Vintage), MOTO Front Lace Jamie Jeans ($20 at Topshop)
If you want to go for a more specific Choni look, then you can't go wrong with what the two wore to the Serpents vs. Ghoulies street race, back when Cheryl and Toni arguably had their first little spark of a possible romance. The big pro of choosing a more ready-to-wear look like this one is that you can re-wear these clothes after Halloween, too.
3. Milkshake Partners
Riverdale Intarsia Cherries Cardigan ($27.92 at Hot Topic), Pile-Collar Denim Jacket ($39.99 at H&M)
The scene that finally created Choni was a vulnerable, romantic talk at Pop's Diner. This scene is iconic for all fans of the couple, and you can easily recreate the looks. Unfortunately, the exact Valentino heart-print sweater that Cheryl wears in the scene goes for over $300, which is pretty steep for a Halloween costume. But you can replace it with Cheryl's cherry-print sweater that looks very similar and saves you hundreds of dollars. Complete the costume with a couple of milkshakes.
4. Serpent Queens
Red Southside Serpent Jacket (from about $55 up on eBay), Strength Of The Serpent Choker ($25 at Dark Rose Jewelry), Tartan Checked Button Kilt A-Line Skirt ($30 at Topshop)
Or maybe you want to embody Cheryl and Toni how we most recently saw them: with Cheryl being officially inducted into the Southside Serpents as Toni adoringly watched on. You can snag your own Cheryl-approved red Serpents jacket on eBay (there are a ton of options), and channel Toni's finale look with a plaid skirt and serpent choker.