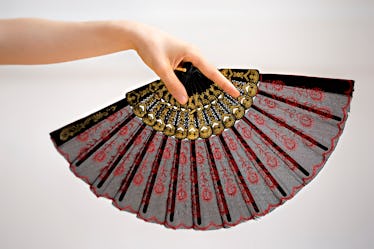 Seriously, Just Don't Do These 6 Offensive Halloween Costumes
I'm cringing just thinking about these.
Shutterstock
Halloween is just around the corner, and it's time to pick out your costume. The COVID-19 pandemic made Halloween 2020 a mostly virtual affair, but depending on vaccination rates where you live, you might actually attend a costume party in person this year. If you decide to (safely) do so, what should you wear? There are so many creative options out there, from superheroes to political critiques to your favorite condiment. However, it's also important to be sensitive when you're trying to decide what to be for Halloween. To help you out, I've come up with a list of six offensive Halloween costumes to avoid. Seriously, just don't.
Even in recent years, numerous celebrities, political figures, and other prominent people have been embroiled in scandal because of racist or offensive costumes they donned in the past. In March 2021, the University of Alabama placed three professors on paid leave after photos surfaced of them attending an on-campus party in 2014 while wearing racist costumes. In the photos, one of the professors was dressed as a Confederate soldier, while the other two posed with a whip and a noose. After the photos came to light, the university's president denounced the professors' actions, per The New York Times, and two of the professors issued public apologies for their costume choices.
The professors may have apologized once they were caught, but done respectfully, your Halloween costume shouldn't be something you end up having to apologize for. Racism is not a costume, and neither are other cultures, tragic events, or systems of oppression. When you're picking out your Halloween costume for 2021, last-minute or otherwise, here are some things you should make sure to avoid.
This article was originally published on