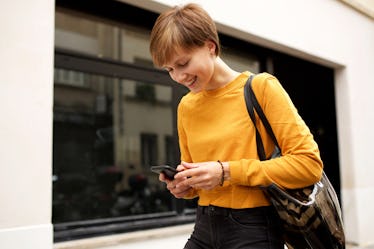 Text Your Partner These Funny Jokes To Make Them LOL
They won't see these coming, and that's half the fun.
Shutterstock
Hands down, the best part of Popsicles is the Popsicle stick joke. There's nothing better than a joke so bad it's funny, and TBH, everyone could use a bit more humor in their life. If you're looking to start a conversation with something a little more exciting than "What's up?" why not make your partner laugh? These funny jokes to text your partner might be a little corny, sure, but they're guaranteed to make them smile.
As relationship psychotherapist Dr. Fran Walfish previously explained to Elite Daily, a shared mutual sense of humor is a wonderful thing to have in a relationship. In fact, it's "part of the glue that bonds partners together as a couple," Dr. Walfish said. If your partner is having a bad day or you're both still reeling from a disagreement, a good joke can break the tension, keep your relationship fun, and get a good laugh out of your partner.
From the flirty to the ridiculous, here's a wealth of jokes guaranteed to put a smile on your partner's face — and just possibly bring you even closer together.
Maybe some of these will earn you an eye roll, but hey — they'll get the conversation going. You'll never have to send the dreaded "How was your day?" text again.
Experts Cited:
Dr. Fran Walfish, a relationship psychotherapist
This article was originally published on