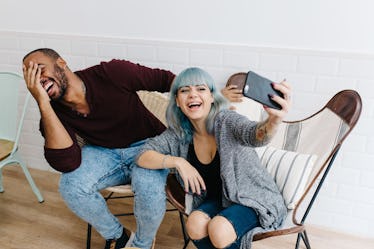 If You & Your SO Have Different Senses Of Humor, Don't Worry & Try This
How important is it to you that you share a similar sense of humor with your partner? For me, it's essential that there be at least a fair amount of crossover, because laughter is how I feel connected to people. It makes me feel amazing to make them laugh and I am drawn most to people who can reciprocate. However, a sense of humor is far from being the only way you can be compatible with someone. So, what do you do if you are really in sync in every other way, but your partner doesn't get your sense of humor? Should you just accept that giggling together is not your destiny and just focus on all the other ways you connect? Or is there something you can do about it — and is a shared sense of humor really even that important? To answer those questions and get some advice on how to turn up the funny in your relationship, I reached out to the experts, who agreed that humor is an important part of a relationship that you shouldn't be expected to simply go without.
"A shared mutual sense of humor is very important to me and should be important in a relationship," Dr. Fran Walfish, Beverly Hills family and relationship psychotherapist and author of The Self-Aware Parent, tells Elite Daily. "It is part of the glue that bonds partners together as a couple. Humor can be used to lighten a moment of conflict and help loosen someone [up] when they are stuck in their own point of view."
Laurel House, celebrity dating and relationship coach and host of the Man Whisperer podcast, agrees but does add one caveat, and that's if the issue with your partner's sense of humor is a sign of having different values because it's offensive. "It is OK to communicate if there are certain jokes or styles of humor that offend you. Because while not finding something funny is one thing, being offended by what they say is another," she tells Elite Daily. Assuming the issue isn't that your sense of humor disconnect is about differing values, here's how the experts say you can find some common ground and add laughter to your romance.