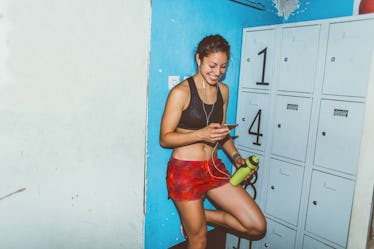 12 Funny Memes To Text Your Partner & Make Them Belly Laugh
Texting your partner throughout the day can be quite the dance. You might get busy at work or stuck in transit, so there may be a natural lull in the conversation. If you still find yourself wanting to shoot off a quick text, a funny meme that you know will actually make them LOL may be just what the doctor ordered. Finding funny memes to text your partner and make them laugh is a talent you can sharpen over time, with some top notch internet sleuthing skills and a good idea of their humor.
"I usually find them on Twitter," says Emma, 24, tells Elite Daily. "Usually, it's like I see someone use a good one as a reply and I'll just send it that way. I don't usually seek them out; it's more like I just save the ones I come across. But I am realizing that I need to start being more active in finding them because I have more negative reaction ones that positive. I love to send them and have people find them funny; it's so satisfying to send the right one."
If you are just getting started with a meme bank, consider texting bae one of the following to make them chuckle.