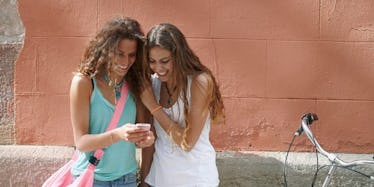 Dating Expert Reveals 6 Tips For Turning A Dating App Convo Into An Actual Date
We've all been there: We're hitting it off with a guy on Tinder, but we don't know how to make the jump from casual emojis and goofy texts to a real-life, face-to-face date.
Clicking with someone via a dating app (beyond the expected dick pic or two or 1,000) is already rare enough, and initiating an IRL meet-up can be intimidating.
Who is in charge of the initiating? How can you make sure you don't blow the date before the date even happens? You don't want to rock the boat, but you do want to enjoy the ride.
Dating expert Meredith Golden talked to Elite Daily about some of her favorite tips for women to take the convo from their phones to their faces, and they are SUPER insightful.
I'd take her word for it too, because one of Meredith's specialities is posing as men and women on their personal dating apps, and handling the artistry of messaging and inbox conversations for (or as) her clients.
Take a look at her fire advice.
1. Get good at multi-tasking.
Unfortunately, dating apps can be pretty time consuming, and if you want to get serious about meeting someone, you need to put in the work.
Meredith suggests,
Start with one [dating app] and test out the activity level it generates. If one app is keeping you busy, stick with it. If you feel like you want more opportunities and have the time to handle two apps, then add it to the mix. If too much dating work is on a single's plate, opportunities get missed. Less is always more in the beginning.
She also told Elite Daily that even though she's dubbed the "Tinder Whisperer," it's not her go-to app.
Meredith has found that apps like The League, Coffee Meets Bagel, Bumble, JSwipe, Hinge, and even Match and OKCupid are better at leading to committed relationships.
2. Responsiveness is key.
Meredith explains that a huge part of the dating game is in the timing. If you do connect with someone, she recommends making communication a priority for the next two to three days.
You want to stay consistent with your responses, but not excessive, and Meredith suggests reaching out or responding to someone at least twice a day.
It's a fine balance, though. Don't be too available, as in all day long messaging, but certainly respond at least twice over the day. For example, if he reaches out Monday morning at 9:00, get back to him around 1:00.  If it becomes an active dialogue, give him three to five minutes of your time and then wrap it up by saying you have to get back to work... but nicely of course. He will write more and then you can respond again after work or before bed. By the next day, or the day after, he should be asking to meet.
Don't be too available, as in all day long messaging, but certainly respond at least twice over the day.
3. Remember, less is more.
You want to save all the big, important details about yourself for the face-to-face date, and keep the messaging limited when it comes to personal info.
The goal of the online conversation is to be charming and charismatic to show you have great partner potential, without making your conversation a place to share our life's diary.
Meredith says, "He's had a taste, not a full meal.  For safety reasons, never reveal too much about yourself, but to entice the suitor to initiate a meet, he has to want to learn more about you."
She adds, "Dating apps are not the place to share your life story — EVER!"
To entice the suitor to initiate a meet, he has to want to learn more about you.
If he's the one, there is plenty of time for him to learn about all of your deep secrets and quirky habits.
4. Play (a little) hard to get.
I hate to say it, but men can definitely be a little skittish, and they spook pretty easily. Meredith says that when a woman asks to meet in person first, "the guy will vanish 90 percent of the time":
I see this all the time. Being successful academically and professionally means being assertive and giving your all. Dating is counterintuitive to many successful females because the opposite it required.  Assertiveness backfires. I wish this wasn't true, but it is.
Dating is counterintuitive to many successful females because the opposite it required.
Additionally, she recommends taking HOW you communicate into consideration. Don't send multiple, disparate thoughts in multiple, disparate text messages, AKA what Meredith calls "barking."
"I see this a tad and it's a turn off," she says. "Each thought gets a message and a send. [Barking] feels like a an annoying chihuahua jumping and yapping. Say what you have to say in one message and then hit send."
A lot of men will join online dating apps JUST to stroke their egos or to fill a void a real-life relationship can't. Meredith says if a guy is not responsive or doesn't plan to meet up with you after a week, it's time to let him go.
He doesn't deserve you anyway.
5. Don't judge a book (man) by its cover (profile picture).
While women have been trained (probably by the relentless pressure of society and the media) to feature themselves in the best — though sometimes filtered — light, men are the opposite.
Meredith has found that, traditionally, a guy's photo won't do him justice IRL.
She recommends,
Take a second before passing on him, and look at his picture through the lens that this is probably the worst picture he has ever taken and then decide if you'll meet him. Nine out of 10 times, guys usually look better in person.
Nine out of 10 times, guys usually look better in person.
Just like you wouldn't want to be judged for a photo that doesn't feature your face perfectly contoured, a man doesn't want to be judged for his shitty color coordination in his tie/shirt combo.
6. Be open-minded.
Often times, people approach dating with a list of ingredients they are looking for in a partner, just like they would go shopping with a list of ingredients to make a certain dish.
Sure, it'd be NICE if that's how love worked — but approaching dating like that just sets you up for disappointment.
Plus, how many people do you hear about who have a successful, fulfilling relationship based on the sheer fact that they matched one another's height requirements?
Meredith explains,
[A woman] will tell me that she's a vegan and wants to date only a vegan, needs someone who is a marathoner like herself, works in finance, over six-feet tall, lives downtown only, best friends with his siblings and his parents have been blissfully married for 30-plus years. I'll then put the request to the room asking if any male meets the criteria and, if so, to come one up and meet his potential mate. This is met with crickets — chirp, chirp and more chirp.  The best guy could be missed because maybe he is five-foot-eight, and this falls under your parameter. But let me tell you, if you meet him and there is chemistry, you will forget about his height by the end of the date. BE OPEN!
Keeping an open heart, an open mind, and MOST IMPORTANTLY, an open dating app is a sure-fire way to send you sailing from inbox purgatory to a real-life happily ever after.