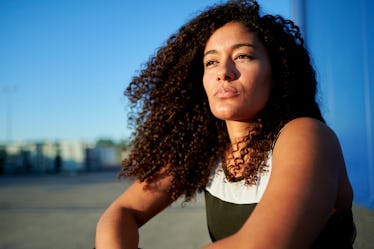 Here's How To Practice Self-Care If You've Been Cheated On
From getting tested for STIs to soothing upsetting thoughts.
Westend61/Westend61/Getty Images
My feet felt cold in the stirrups that afternoon at the gynecologist. My body, heavy, even though I had been too disturbed to eat for weeks. I was lightheaded and had a cold sweat from my forehead to my exposed lower half. The exam table paper stuck to the back of my legs.
"So you're here for some tests. Are you currently sexually active?" she asked.
"Umm, I mean, yeah, kind of."
"How many sexual partners have you had in the past year?"
"One." My throat clogged up.
"So you have a long-term partner?"
"I did. He… cheated on me. I'm pretty sure with multiple women. We were together for almost two years. I just need to know I'm OK."
I exploded into tears. On top of feeling heartbroken, I was worried about the risk that my partner may have carelessly given me a sexually transmitted infection (STI).
Now that I've gone through the trauma of betrayal firsthand, I know how important it is to prioritize your physical and emotional wellbeing in the aftermath. Whether you've just discovered your partner's infidelity or your gut is telling you that something is wrong, start by acknowledging that you're worthy of healthy love, trust, and respect. You deserve to feel safe. As you begin to process and heal from your partner or ex's infidelity, here's how to take care of yourself.
Sources:
Dr. Alexandra H. Solomon, PhD. licensed clinical psychologist, author and speaker specializing in families, marriage and relationships
Dr. Rossana Sida, PsyD, LMFT, certified sex and relationship therapist