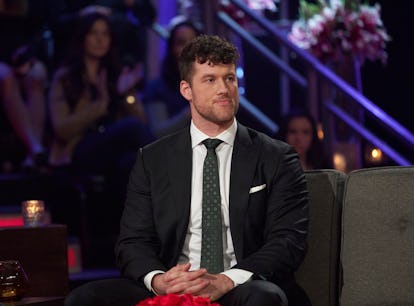 Bachelor Stars Reacted To The Most Jaw-Dropping Moments Of Clayton's Finale
They said what we've all been thinking…
ABC/Craig Sjodin
In most Bachelor seasons, drama dominates the storyline for the first part of the series. By the end, however, there tends to be more focus on the love story. It's a formula that makes sense — especially considering the ending usually involves a Neil Lane ring and a promise of forever. Unfortunately, it seems that Clayton Echard's Bachelor season is the exception to this rule. Though his finale is halfway over, rumor has it that there is still plenty of drama to get through, and Bachelor producers are calling in reinforcements, inviting a panel of alumni to the live finale for their takes on the sitch. But that isn't the only place they're airing their feelings. On March 14, Bachelor stars reacted to Clayton's finale (night one) on Twitter, and they did not hold back.
ICYMI, during the episode, Clayton revealed to his final two women, Rachel Recchia and Gabby Windey, that he was in love with both of them (and Susie Evans, too) and was "intimate" with both of them in the fantasy suites. A lot of tears ensued, and although both women ended up agreeing to meet Clayton's family, the episode ended with one final twist: Clayton's heart was still with Susie — and Rachel and Gabby. (Let the record show, he is indecisive.)
Though there is still no telling how Clayton's finale will end, one thing's certain: Twitter will have an opinion, and Bachelor alums will be joining in the conversation.
It seems like the #TheBachelor hashtag has never been so passionate — and we still have another night to get through.