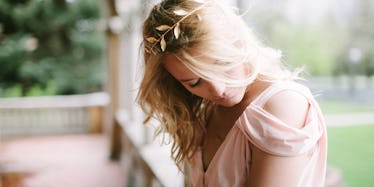 What Fashion Brands Look Like With Inspirational Women As Their Faces
Stocksy
Non-models are certainly having their moment in the gloss(ies) right now.
Luxury brands have been taking a noticeably different approach to generating buzz, switching from sullen-faced teenagers to incredibly influential women as the faces of their latest lines and campaigns.
We saw the fabulous Joni Mitchell spearhead for Saint Laurent, the glorious Joan Didion non-posing for Celine and most recently, Iris Apfel working it for Kate Spade.
Elisa Rodríguez-Vila, a writer at Fusion, sought to make this trend a more permanent way of advertising fashion.
She wondered what it might actually be like if amazing, powerful and inspirational women were always the face of fashion.
As she told HuffPo:
I enjoy flipping through fashion magazines just as much as the next person, but I didn't fully realize how bored I had become with fashion ads until I saw the Joan Didion Celine ad. I've never even been able to afford a pair of socks by Celine, but all of a sudden they had my attention on so many levels. This was a woman who was beautiful and stylish, but those characteristics were just footnotes to the amazing life she has led. It got me thinking how EASY it would be to recreate that feeling with in fashion ads.
Rodríguez-Vila inserted some of the world's most free-thinking, important women into high-end fashion brands like Chanel and Louis Vuitton, and the results are absolutely breathtaking.
Ruth Bader Ginsburg for Chanel
Just as timeless as a Chanel suit as she is in her Supreme Court robes.
Gloria Steinem for Chloé
Her 70s look is so fab. We love the lob.
Malala for Louis Vuitton
A girl with this much world power needs a bag to match.
Janet Mock for Calvin Klein
She is so beyond gorgeous.
Roxane Gay for Saint Laurent
Giving Joni Mitchell a run for her money.
Laverne Cox for Versace
Honestly, why has no one thought of this yet?
Mo'Ne Davis for Céline
This is one curveball we all want to see.
Citations: Super Women Replace Supermodels In Fashion Ads And The Results Are Epic (HuffPo)