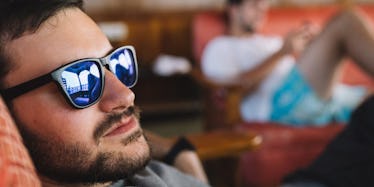 Embarrassed By Scraggly Stubble, Men Are Receiving Beard Transplants
In the world of male fashion, the beard is king -- even if you can't grow one.
Be it day-two stubble or full-on Abe Lincoln impersonation, we just can't resist men with a full face of hair. Unfortunately, many guys can't actually produce the kind of lush facial garden potential partners love to nuzzle.
Instead of going barefaced, the New York Times reports a dramatic increase in men seeking facial hair transplants. Using follicles from dense hair on the back of the head, surgeons can create a natural looking patch of scruff that will guarantee men can grow a strong, full beard.
The phenomenon isn't exactly new. In fact, news outlets have been reporting on hair transplants since 2014. Dr. Bernard Arocha of Austin's Arocha Hair Restoration told CNN his patients are largely in their 20s and 30s, looking to keep up with trends.
Indeed, between 2012 and 2014 the Times reports the frequency of hair follicle transplants to the face grew from 1.5 to 3.7 percent. It seems every man wants a beard today, and they're willing to drop thousands in order to achieve the lumberjack look.
According to the three hair transplant patients mentioned in the Times article, prices for procedures can range anywhere from $7,000 to $22,000.
Although we adore the beard, those thinking about scheduling a consultation may want to reconsider. Research shows from an evolutionary standpoint, we're always more attracted to cutting edge aesthetic looks.
As more men decide to wear beards, the appeal of bare-face men will become increasingly evident. Beards beware.
Citations: Baby-Faced Men Opt for Beard Transplants (New York Times)