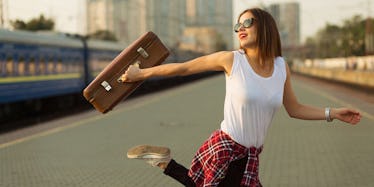 How To Wear Flannel Without Looking Like You Escaped A Lumberjack Farm
I don't think I stand alone when I say this: Lumbersexual men are a thing. There's nothing hotter to me than a (preferably) shirtless dude with some crazy tats, a beard that makes Santa jealous and a wood chopper.
On that note, what is it about chopping wood that automatically makes guys go from fours to nines?
Regardless, while that lumber-f*ck-me look works great for guys, it doesn't really translate for girls. Beards on girls are not exactly swoon-worthy and, well, chopping wood just doesn't quite yield the same effect.
One of the biggest components for completing the lumbersexual look is flannel. Flannel kind of developed a bad rap, thanks to oversaturated hipster culture and its association with people who find it hard to take regular showers. But it's such a must-have for fall that it simply cannot be overlooked.
Here's how you can wear it without looking like a hipster or a douche (really):
When you want to appear like you don't give a crap but still look cute in case you run into your ex:
Who says you have to go for your average red and green plaid button-down? Look cool and make your teenage cousins proud of you by wrapping a flannel shirt around your waist.
Instead of fighting to make the sleeves cover your ass and keep your cooch from showing, opt for one that's already pre-made as a skirt. Next, grab a sporty tank in the same color family and a pair of white kicks for an easy outfit that's perfect for a quick hungover brunch.
When it's Monday and your boss doesn't get the concept of leaving you the f*ck alone:
Flash everyone your favorite finger in this outfit.
Pair a leather curve-hugging pencil skirt with some teeter-tottering heels. Tuck the plaid top into the skirt to show off your waist, or do the "editor's tuck" by only tucking one side into your skirt.
When you're going out but the weather is being bipolar:
There aren't many life occasions where a little black dress will be inappropriate (interviews, dates, parties and funerals, all set), so knowing how to wear one with fall's most appropriate textile is kind of a must.
If you're planning on going clubbing, but it's too cold for just a dress and too hot for jackets, throw a flannel over your LBD and pair with pumps. Look at you, you're all ready to hit up happy hour.
When you're hungover and DGAF:
Since you're probably too lazy to actually shave your legs, opt for some hair-friendly pants.
Do yourself a favor and don't just go for plain skinnies or light-wash denim. Instead, opt for leather pants because they have that innate ability to dress up whatever you're wearing. Your flannel just got an upgrade.