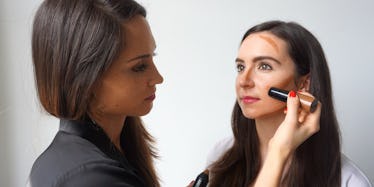 How To Contour Your Face In Two Minutes Flat, Without Any Fancy Tools
Kylah Benes-Trapp
Everybody wants to be Kim Kardashian West.
That is, until the alarm goes off at 6:50 am and all we really want is an extra 10 minutes of slumber and a bagel with avocado slathered on top.
In a world dominated by celebrities with professional makeup artists and Instagram selfies, there's near-constant pressure to be photo-ready and flawless, even during office hours. My solution isn't to set my alarm 20 minutes earlier and painstakingly pluck each eyebrow hair while face masking.
No, no: The real solution is to fake it.
With that in mind, I called in TrèStiQue Cosmetics. Each of the groundbreaking line's products contains pigment on one end and a snap-in brush or applicator on the other, meaning you'll never be caught without a blush brush again. It's designed specifically to expedite your morning makeup routine and lighten your purse load -- the entire 8-piece line weighs less than half a pound and fits into a single, compact carrying case.
Bronzer Stick in Brazilian Bronze,$34, Sephora
Prep your face with foundation and concealer, as well as any eye makeup you might like. Pour yourself a mug of dark roast, and pretend like you're awake and pay attention. Founder Jenn Kapahi is about to reshape your routine.
Start with a dark bronzer, drawing on your shadows.
Think of your face as a painting, wherein the areas with shadows will look slimmer and more sharply defined. Contour will depend on face shape, and Kapahi maintains it takes a few rounds before you know what your face needs.
 Try out: Dew The Hoola Liquid Bronzer, $28, Sephora 
But, as a general rule, shading should fall just under the cheekbones (suck in your cheeks and draw directly below), around the hairline, down either side of the nose and across the jawline. If you look a lot like a Roy Lichtenstein painting, don't be afraid.
Use a makeup brush (or the one attached to your tool) to make tight circles with light pressure across the contour, blending your stripes into a natural-looking glow.
Real Techniques Expert Face Brush, $6, Amazon 
Bring on the blush.
Fresh out of bed, I usually look like I eat brains to stay alive. Eight hours with my face mashed into a pillow isn't conducive to any kind of pretty skin. Post-contour, Kapahi's next step is faking a fresh-air flush with a soft, pink blush.
If you have a round face like I do, keep the blush to the apples of your cheeks to slim out the face by creating the optical illusion that it's narrower. For thin faces, follow the cheekbone and blend with small strokes.
Try out: Blush Stick in St. Barths Pink,$34, Sephora ; Baked Blush in Luminoso, $7, Amazon
Finish with a highlighter, you fox.
By now, you should be looking a lot like a human being who wouldn't frighten the cashier at Starbucks while ordering an Americano. You've already created your own shadows, so the final step is to complement them with a highlight on top. These are the areas you'd like to pretend the sun is hitting all the time, like your nose bridge and cupid's bow.
Apply your highlighter in a C-shape from under mid-eyebrow to around the outside of the eye. Then, place product on the mid-forehead, above the cheekbones and above the chin. Then, pat until the highlight blends.
Try out: Highlight Stick in Maldives Luminescent, $34, Sephora; Too Faced Highlighting Powder in Warm Glow, $30, Sephora
Take on the day, face first.
Contour isn't for everyone, but it's much more approachable when it comes in a quickie form, as opposed to an hour-long Kardashian tutorial. I make the extra effort on days I'm planning to go out after work, because nothing makes your face flat like dreaded, dim bar lighting.
With this contour method, I can still get my beauty rest while stepping up my glam factor. Now, go forth and contour your boobs.