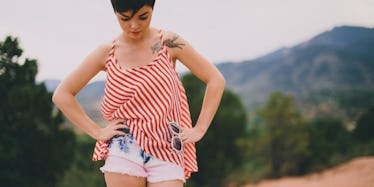 4 Style Tricks To Help You Fake An Hourglass, Even If You Have Narrow Hips
Both Drake and the Kardashian family might be all about women with big booties, but what about us girls with a little less junk in our trunks? We need love, too!
I'm top and middle-heavy with narrow hips and thin legs, sort of like an inverted triangle. I have a barely-there ass and even hips that are practically nonexistent. Seriously, booty forgot to RSVP to my body party.
I'm always strategizing about how best to dress my hips (or, more accurately, lack thereof). Jeans, for example, tend to draw attention to the area, while leggings make me look lopsided. Same goes for figure-hugging dresses. Proportionally, they don't work.
If you're a hip-less gal like me, here's what you need in your closet.
Lesson 1: A drop waist is flattering on willowy figures.
If you have a narrow body frame (small bust, barely-there waist, slim hips,) a drop waist can help you create the illusion of curves.
The lower waistline adds volume to your hip area while accentuating your waist. Pair with flats and simple jewelry for an Audrey Hepburn-approved look.
Lesson 2: Busty girls should balance out their proportions.
If you're top-heavy but have a small waist and hips, keep your proportions in check with a flared pair of shorts. A high-waisted pair will define your middle, while a tight crop will flatter the "twins" up top.
Instead of going for an overdone nautical stripe, choose uniform pinstripes. A classic brown loafer will never lead you astray, either.
Lesson 3: If you want to accentuate your legs, opt for a slit.
Narrow hips and killer legs go hand-in-hand (leg-in-leg?), so don't be afraid of drawing attention to them. Instead of wearing a basic mini, try an equally sexy high-waisted skirt in a bright color. I love pairing vibrant shades with prints, so go for a marble or checkered button-down.
Lesson 4: Look for bathing suits that add volume.
An important rule of shopping is choosing clothes that  give you curves where you want them. The same principle applies to bikinis.
A volume-heavy bikini bottom will help create the illusion of curvy hips, so look for crotchet detailing, ruffled bands and bold prints. Steer clear of high-waisted bottoms that may accentuate your lack of booty.
Basically, this summer will be all about faking an hourglass-worthy silhouette. Our hips do lie, but they still look fly as f*ck.