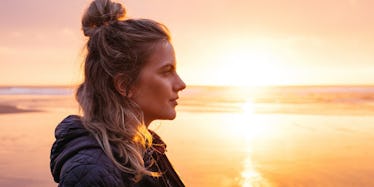 12 Changes You Need To Make So You Can Start Over After A Breakup
We don't all turn into an Addams Family member after a dude ends a relationship. We don't all want to stalk his social media or play petty games.
Some of us just want to be better post-breakup, rather than bitter. Let's be real, breakups are merely setups for a sexier comeback.
Sure, it's tough to realize it at first as you're crying and divvying up shared custody of the Netflix passwords. Cutting ties with a guy you love is sad, but life doesn't end because he lost the best thing he ever had.
Instead of wallowing, make these 12 changes immediately. If done in order, these steps will make you feel and look better than if you were still together.
1. Change his name in your phone.
Swap out "Poo Bear" for a nickname that'll (hopefully) stop you from drunk dialing him. Something along the lines of "Do Not Answer," "Don't Play Yourself" or "WTF?!" should keep you from backtracking.
In extreme cases, delete his number altogether.
2. Change your hair.
After a breakup, a minor hairstyle alteration is a must. Just don't become a scissor-happy freak unless you're prepared to live under a hat all winter.
3. Change your wardrobe.
What's better than retail therapy to soothe a semi-broken heart?
While you may be using Adele's new single to ease your breakup pain, you still need a new wardrobe for upcoming first dates.
4. Change your Facebook status.
Make your breakup more official than Bennifer's by letting the world know it's over. (We see you, Facebook Moms!)
5. Change your friends' opinions of him.
Long gone are the days of protecting your ex. Gather your girls for a therapeutic bashing section and burn everything he left behind, except his hoodies.
6. Change all your music playlists.
Hearing a song that reminds you of brighter times in your relationship is heart-wrenching. So if you're so sick of love songs that leave you overly emo, turn off Ne-Yo and turn up Fetty Wap.
7. Change your shaving routine.
Let's be honest, keeping up with your leg's tiny hairs is exhausting. Much like your relationship, you can finally give your follicles a break! Don't go too crazy, though. Stay prepared for the next suitor who may get lucky.
8. Change your weekend plans.
Since you had to cancel your New Year's Eve couples trip, spend your extra free time with friends and family. My suggestion? Take yourself on a few dates before diving back into the dating pool.
9. Change your perfume.
Go ahead and switch your scent up if it reminds you of your ex. But remember: Your signature smell trumps whoever comes and goes.
10. Change your dating apps.
Now that you're back on the market, it's time to peruse the male menu. Jump back on Tinder, Bumble, JDate, Coffee Meets Bagel, Christian Mingle, OkCupid -- you get the point.
11. Change the type of men you date.
It's raining men, so don't make the same mistake twice. Translation: Don't date the guy who never pays for dinner, again!
12. Change your outlook on relationships.
Directly following a breakup, it's easy to believe f*ckboys are hiding at every turn, waiting to play you. Don't feed into the games. Trust me, love is still out there.