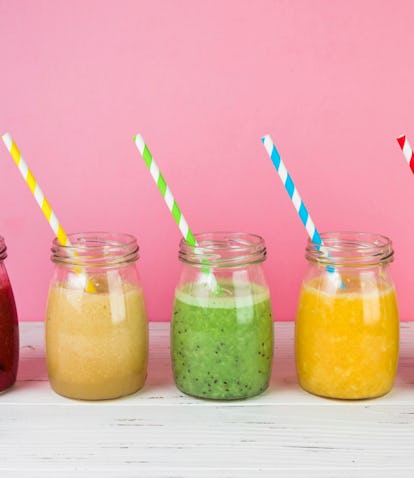 7 TikTok Smoothie Recipes To Inspire You To Eat Your Fruits & Veggies
Blend in with the smoothie trend.
Shutterstock
Who doesn't love a good smoothie? With places like L.A.'s Erewhon, which has smoothie collabs with celebrities like Hailey Bieber's Strawberry Glaze, or popular smoothie chains like New York's Juice Generation, you'd think everyone's eating their necessary fruits and vegetables. Recent research, though, says otherwise.
According to a poll of 2,000 Americans conducted by OnePoll for plant-based milk brand West Life Soymilk, 43% said that they're not eating fruit every day while 52% acknowledged that they also aren't consuming vegetables on a regular basis. Still, the survey found that smoothies are on the rise as a popular form of fruit and veggie consumption, with 51% of the group drinking a smoothie once a week. Over half of the group, 79%, said that a smoothie could act as a meal replacement as long as it's filling — and many seem to be saving the bank and making their smoothies at home. Respondents made it clear that when it comes to making a smoothie themselves, they're either replicating a social media recipe or one that's popular among a celebrity.
If you're one of these people looking for smoothies to make online, there's no better place to search than TikTok. Whether your smoothie vibe is ultra fruity or go green, there are so many recipes to try. Here are seven oh-so-delicious TikTok smoothie recipes that will have you craving your daily dose of fruits and veggies.
1. A Strawberry, Banana, & Orange Smoothie
If you're not into green smoothies or heavy workout smoothies with protein powder, you should definitely try a fruity smoothie with the classics like strawberries, bananas, and oranges. This is easy to make with the simple addition of vanilla extract and milk to easily blend fruits. It'll give you the sweetness you need, and you're still reaching a daily intake of necessary fruits.
2. A Green Smoothie To Help With Digestion
For the girlies that want to go green, this smoothie with frozen mango, baby spinach, basil, kaffir, coconut water, chia seeds, and matcha collagen protein powder, is not only a good way to consume your fruits and veggies, but TikToker Meredith Hayden (@wishbonekitchen) swears by it for easing any tummy issues you might have.
3. A Hailey Bieber Strawberry Glaze Smoothie Dupe
For the non-Angelinos who can't waltz over to your local Erenwhon or for those who simply don't want to pay $20 for a smoothie, TikToker Blake Vicknair posted a video on how to recreate the viral smoothie at home. Combine fresh strawberries, honey, frozen strawberry, almond milk, vanilla vegan protein, dates, vanilla collagen peptides, vanilla extract, maple syrup, and honey-coconut cream, and voilà you've got yourself Hailey Bieber's favorite strawberry glaze smoothie.
4. A Bulking Smoothie
Build the bulk and grow your muscles with this heavier bulking smoothie. Add ingredients like milk, oats, banana, strawberry, honey, peanut butter, protein powder, and more as your gym drink buddy to get needed nutrients while aiding the muscle toning process.
5. A Mango Smoothie
There's nothing more refreshing than a juicy mango. If you're a lover of the fruit, it's definitely possible to make a totally mango smoothie. Using TikToker Trace Alexander's recipe, throw mango, vanilla yogurt, milk, and turmeric into a blender and blend away.
6. A Green Smoothie That Actually Tastes Good
Green smoothies aren't exactly known to be the most delicious, but creator Chelsy Christina provided a recipe that will change your mind. She blended aloe vera Juice, spinach, banana, hemp seeds, avocado, pineapple or mango, and apple juice. The pineapple or mango and apple juice add on the sweetness that you're usually missing with a usual green smoothie — it's the perfect combo of fruits and veggies.
7. A Creamy Peanut Butter Smoothie
Peanut butter lovers, try a thick and creamy peanut butter smoothie featuring bananas, almond milk, peanut butter powder, peanut butter, and dates for a yummy drink on its own or potentially paired with a light meal.