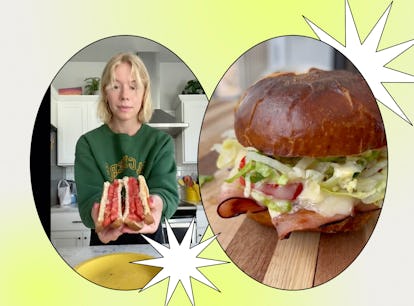 These TikTok-Approved Sandwich Recipes Make the Perfect Lunch
TikTok has become a one-stop shop for everything and anything you could possibly be looking for, whether it's at-home science experiments or a review of a Rare Beauty's latest product drop. One area, though, where TikTok seems to shine is the food category. Chefs and food lovers everywhere have been taking to the app to share delicious recipes ranging from fried chicken cooked using mini appliances in a college dorm room to Emily Mariko's famous salmon rice bowls. But sometimes you're looking for something to elevate an everyday staple, like a sandwich. Luckily, the app has a ton of recipes to try that will help you master making the perfect 'wich.
Not sure where to start your sandwich-making journey? A recent poll of 2,000 Americans, conducted by OnePoll on behalf of lunch meat producer Buddig, discovered what ingredients people think make the most ideal sandwich. The survey asked participants about the best sandwich condiment, fruit and vegetable topping, meat, and cheese. For condiments, ketchup topped the charts with 61% of the poll group voting for the tomato-based spread. Tomato was also the top fruit/vegetable choice earning 54% of the group's approval. The top meat was black forest ham which was chosen by 39% of the group. Thirty-nine percent of the group chose cheddar cheese as the best cheese. According to the research, two in three Americans say they could live off only sandwiches for a full week, with the average American having a sandwich four times a week.
If you're inspired by these ingredients and America's love for a good sandwich, here are some of TikToks most mouth-watering recipes to up your sandwich game.
1. Chicken Panini With Ketchup
Ketchup might seem like a condiment reserved for burgers and fries, but try adding it to your sandwich by following TikToker Chris P.'s recipe featuring mayo, cheese spread, chicken, ketchup, and salt and vinegar chips.
2. Tomato Sandwich
If you're a vegan or vegetarian this one is for you. TikToker Bria Lemirande's tomato sandwich featuring bread, butter, and tomato is the best option for those looking to ditch the meat and make seasonal produce the star of your meal.
3. Not-Your-Average Ham Sandwich
Meat lovers, here's a simple way to elevate your classic ham sandwich. TikToker Sarah Thomas-Drawbaugh updated the meal by using a pretzel bun, adding lettuce, making honey mustard, browning the ham, and finishing it all off with Swiss cheese, lettuce, and tomato.
4. Chicken & Cheddar Sandwich
This toasted chicken and cheddar sandwich will for sure have your mouth watering. The 'wich consists of toasted bread, chicken, cheddar cheese, tomato, cucumber, avocado spread, and lettuce.
5. Club Sandwich
Combine all the poll's top ingredients into a simple, but delicious club sandwich. Add bacon and lettuce for extra flavor.