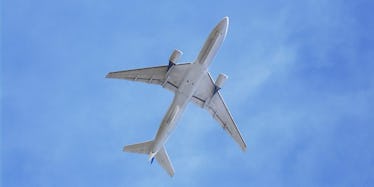 You Can Buy A Plane Ticket For $49 With JetBlue If You Act Very, Very Quickly
Amy Covington
Now that summer's coming to an end, airplane ticket prices are dropping — and I'm not complaining. While fall is a cheaper time to book in general, a JetBlue flash sale has $49 plane tickets, which feels extra affordable. However, there's a small catch: You have to act fast, because the sale ends at 11:59 p.m. ET on Wednesday, Aug. 16.
Before you race to schedule your next getaway, here's the lowdown on those coveted $49 one-way tickets available during JetBlue's (nearly over) two-day event.
For $49 You Can Take The Following Flights:
From St. Croix, U.S. Virgin Islands to San Juan, Puerto Rico; from Long Beach, California to San Jose, California; from Fort Lauderdale, Florida to Chicago, Illinois; and from San Jose, California to Long Beach, California.
If those don't work for you, the sale includes plenty more routes for varying (still affordable) prices, ranging between $54 and $259.
The Small Print
Your travel dates have to fall between Sept. 6 and Nov. 7 with the exception of JetBlue's blackout dates, which include Sept. 20 through Sept. 25 and Oct. 5 through Oct. 9. Even so, it's hard to pass up such affordable airfare.
JetBlue isn't the only airline posting super affordable fares at the moment, as a scroll through your favorite cheap flights app will prove.
In a blog post for USA Today, FareCompare.com's CEO, Rick Seaney, explained why prices drop at the end of the summer and throughout fall. He said,
When children go back to school, demand takes a dive which prompts the airlines to lower their fares. Fall is cheap and, where airfares are concerned, fall arrives in August.
Makes sense! Honestly, JetBlue's $49 price tag is wonderful. However, as we recently reported, round trip flights to Hawaii are currently going for under $400, making for an equally enticing deal.
So, the question is this: Where would you like to go before your Thanksgiving trip home?
I'd like to go everywhere.