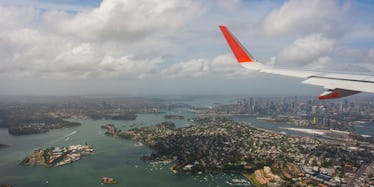 The Cheapest Week To Book Your Flight Home For Thanksgiving Is Coming Up
Gillian Vann
Now that summer's winding down and Starbucks already has a new fall beverage out, it's time to start thinking about your holiday travel plans. (So annoying, but true.) Thanksgiving flight deals will soon hit your favorite travel sites and apps, and since we all want to snag a cheap ticket, here's the best time for cheap Thanksgiving flights, according to experts. Keep your eyes peeled for The One!
The Best Week To Book
In an Aug. 2 press release, travel search engine Skyscanner revealed that up to 4 percent cheaper fares start to appear the week of Sept. 4. "The booking window for travelers to find greater savings is extending," Skyscanner's head of communications for the Americas, Randy Wolfson, said in a statement, and similar ticket prices could be available up until Nov. 6.
Okay, permission to exhale. We. Have. Time.
A representative for KAYAK — a well-known app and resource for finding cheap flights — provided Elite Daily with similar insights. According data from its internal database, domestic travelers looking to fly from the West should book their flights after Sept. 4. And as a general rule, we should expect to see prices soar after Nov. 11, so don't procrastinate too long.
Going International?
For international holiday travel, especially to Europe, KAYAK recommends locking in your flights by Oct. 10. As many experts agree, aim to book everything six to eight weeks ahead of time to get the best rate.
Prices To Expect
If you're traveling domestically, Skyscanner says $300 for a round-trip ticket is about the average cost you should anticipate.
In 2016, Airlines for America (A4A) estimated that 27 million people hit the skies for Thanksgiving travel. Should 2017's numbers be anywhere near that multi-million figure, we're going to have some fierce competition.
With that in mind, Skyscanner offered up a few tips in its enlightening press release: Be sure to search all airports in your area for maximum results, change up the travel dates if possible, and don't forget to set up flight alerts to ensure you're notified when an extra low price hits the market.
Happy Thanksgiving (travel booking)!