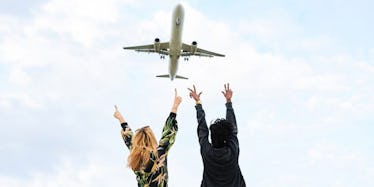 These Flights To Hawaii Are Cheap AF And Perfect For Your End-Of-Summer Vacation
Before bidding summer a complete farewell, why not take an impromptu vacation to an island paradise? Don't brush it off as a total out-of-budget affair just yet, because there are plenty of cheap flights to Hawaii right now, Travel + Leisure reports. According to Airfare Spot, round trip tickets from the mainland to the islands are under $344 — nope, I'm not kidding.
The extra low ticket prices are probably the result of more flights making their way to Hawaii. In June, United Airlines and Hawaiian Airlines added a combined 14 new routes. United added 11 routes to celebrate 70 years flying to Hawaii, while the locally based airline added three of its own, presumably allowing a drop in fare.
Aside from those two airlines, Airfare Spot shows that Alaska Airways and Virgin America also have great deals at the moment. However, there's sort of a catch: the low low rates are for flights that originate on the West Coast (e.g. Los Angeles or Portland).
An East Coast roundtrip ticket will likely run you double the cost at around $600. Honestly, it's still pretty affordable when you consider just how far you're traveling. I've paid the same amount booking a last-minute Thanksgiving flight home from New York City to Charlotte, North Carolina, which is way less cool, TBH.
Whether you plan on going solo, with your fam, or maybe on a blind date like that viral Tinder couple, it's safe to say Hawaii will be well worth the money you spend on a bargain flight.
Need some trip ideas? No matter which of Hawaii's eight main islands you choose to fly into, you can expect to participate in some majorly cool activities like attending a real-life luau, learning to surf, or seeing volcanos up close.
Honestly, I'm not sure what you're waiting for. Go, go, go book your flights!