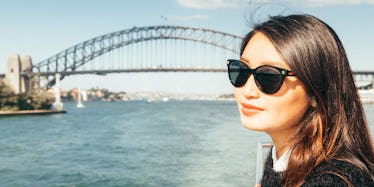 8 Non-Obvious And Highly Instagram-able Places To See In Australia This Year
Maximilian Guy McNair MacEwan
Are you determined to make your Australia travel dreams come true this year?
Good, I'm glad you finally decided to take the leap instead of wondering what the Great Barrier Reef looks like in person for the rest of your life.
As you make your plans to visit this dream destination, you're probably thinking about the Sydney Opera House, cuddly koala bears and kangaroos.
But wouldn't it be pretty cool to travel off the grid instead?
Sure, you can still fit in all of the obligatory Australian sites but why not make an effort to see what's going on underneath the surface. If you are ready to travel off the grid in Australia this year, try out one of these unique options.
Visit The Kimberley.
The Kimberley is a region of western Australia that borders the Indian Ocean and plenty of desert.
While it was one of the first areas of the country to be explored, The Kimberley is now known as the last frontier as it is remote, wild and naturally beautiful.
Aside from being a bit like the wild west, the animal and plant life here is exotic, too.
Hike to secret gorges, find empty swimming holes and wander through the vast and hardly touched national parks.
Plus, you can pack up some gear and actually go camping in the bush. What better way to get off the grid for real!?
Go urban exploring.
Wandering around abandoned buildings and manmade structures is perhaps a simpler way to put it.
Australia is full of places that were once filled with life and purpose but now stand collecting dust and weeds.
Grab a flashlight and head to some of the country's top destinations for urban exploring.
Some great places to explore are the St. John Orphanage in Goulburn, New South Wales or the Arts College in Brisbane, Queensland. Both are abandoned and gorgeous.
They are usually covered in graffiti or have artifacts that were left behind, so make sure to bring your camera.
While it may seem obscure, there are tight knit communities online that offer insight on where to go, how to get there and what to expect.
Go off-road.
This is one of the truest ways to get off the grid in Australia and see areas that could never be reached on foot.
One of these trips will allow you to see parts of the country that really define Australia -- like the deserts and national parks.
Be prepared to see plenty of nature and get away from the tourist crowds of the big cities.
You can take a tour or navigate on your own through some secret spots, but whichever you choose, it's highly likely that you will come back with experiences, stories and photos that not many Australian tourists get to have.
Drink in hidden bars.
Instead of packing in to the bars that are listed in your guide book, try uncovering the hidden, underground or Speakeasy style bars that are bound to be in each city.
The atmosphere is probably a whole lot more interesting than the corner sports bar and the drinks tend to be a little craftier too. There is a bar in Melbourne with literally no name, as well as a New York style speakeasy hidden behind a bookshelf.
If you visit Sydney, you can find a hidden bar below a tailor's studio, and a beer bar in the back of a barber shop.
The cities all over Australia are full of these places but make sure to do your research if you want to successfully find them.
Do WWOOFing.
It stands for Willing Workers on Organic Farms and is quite an interesting way to travel off the grid in Australia.
By signing up for the website, travelers can find farmers who are looking for help in exchange for room and board.
If you want to learn about Australian winemaking, pair yourself up with a vineyard in need.
If livestock is more your thing, find a farm that specializes in that.
You have plenty of freedom to choose what interests you most and you will get to learn new skills, meet local people and see a part of the country that almost no tourists get a chance to.
Work in the outback.
For those that are actually willing to put in some work on their visit, scoring a job in the Outback is a fantastic way to get off the grid.
Not only will you earn a little money and get to hang with locals, but you will escape most tourists and the packaged sightseeing deals that are constantly thrown in your face.
Sure, you could get a visa and start serving in a restaurant or working in a bar, but why not take the chance to experience one of the most off the grid places that the country has to offer?
Find a local host.
Forget about staying in hotels when you visit Australia this year.
Instead, find a local host who can show around the less traveled track. Plus, you can find out the inside scoop on local life and potentially make some new friends.
Websites like Couchsurfing allow you to snag a spot on a local's couch or extra bedroom at no cost.
Airbnb is another option that allows you to stay with local hosts for a fee.
Wander Daintree Forest.
Tons of tourists visit this enchanting forest every year but it's one of those places that can feel endlessly secluded if you go on your own.
It's located in Queensland and is Australia's largest and most wild rainforest.
This forest is huge and wandering around it can lead to some pretty incredible plant and animal sightings.
Plus, it's so immense and intriguing that you may feel like you are on a whole other planet.
Are you ready to get off the grid in Australia this year?