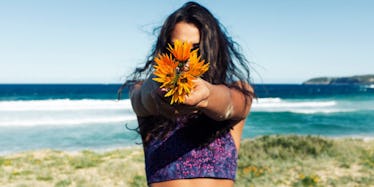 6 Reasons To Drop Everything And Take Your Dream Vacation To Australia
Stockvan Saar
Australia is that far, far away place we all want to go to.
It's always warm and beautiful, there's kangaroos everywhere (apparently) and those accents will make you melt.
Australia is one of those bucket-list destinations, but as wanderlust season is just around the corner, now's the perfect time to kick your dream plan into high gear.
The best part is, you don't really need to worry about anyone joining you, as it's one of the best countries to visit solo.
If you're nervous about going alone, start your trip with a group tour; they're awesome and totally worth it.
Companies like Contiki and Topdeck have "heaps" of tours in the destination.
Right now, TourRadar is even having an Online Expo with some sweet Australia tours.
Tempted yet? If not, you will be after these six reasons.
It's home to the world's most incredible beaches.
Byron Bay, the Gold Coast, Bondi Beach, Lizard Island, Mile Beach ... if I kept going, this article would be way too long.
These beaches are all over the country and are some of the most beautiful, surreal beaches in the entire world.
Byron Bay Beach has become one many travelers talk about. Its hippie vibe draw tourists in, while Bondi Beach is a must see as one of Sydney's famous spots.
So, sit back, watch some surfers hit the waves and soak in that sun.
Australia's road trip game is on point.
Have you ever seen photos of anyone going on a road trip in Australia?
Great Ocean Road is probably one of the most widely known, and lives up to the hype. On that drive, you'll see the amazing 12 Apostles, beaches (obviously) and rainforest walks.
Other drives to check out are Uluru to Kings Canyon, Kangaroo Island, Great Alpine Road, Kuranda and Grand Pacific Drive.
The people are bloody epic, mate.
If you haven't met an Australian yet, you should add that to your life goals.
They're hilarious individuals and many have done lots of traveling in their lives.
It's actually pretty inspiring.
On top of this, the accent is just soothing to us North Americans.
Also, if you hang around Australia long enough, you'll realize that despite being English speakers, you'll somehow learn a whole new language.
A ton of things will be checked off your bucket list.
Ready for it? The Great Barrier Reef, the Sydney Harbour Bridge, the Opera House, Bondi Beach, Byron Bay, the Gold Coast, Sydney, Melbourne, Uluru … need I go on?
There are so many big bucket list spots and activities in Australia; it's hard not to be tempted to go and check a ton off at once.
The national parks will blow your mind.
There are lots of them, and each one will blow you away.
They're all over the place in Australia, so no matter where you go, you're bound to come across one of their national parks.
Between epic waterfalls, mountains, lakes and wildlife, they are one of the biggest draws to the country.
Make sure to check out Uluru-Kata Tjuta National Park, Blue Mountains National Park, Wilsons Promontory National Park or Karijini National Park.
Actually, any of them will exceed expectations.
The wildlife is unreal.
We've all heard about kangaroos, but there's so much more wildlife to discover in Australia.
There's also crocodiles, koalas, Tasmanian devils (yes, they're real), wombats and lots more.
Keep this next point in mind and trust me on it; don't be fooled when an Aussie tells you the story about drop bears.