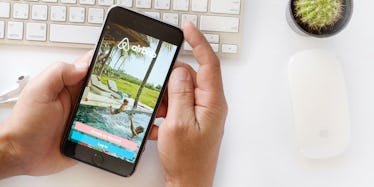 Everything You Need To Know About Airbnb, As Told By DNC Renters
Shutterstock
Less than a year ago, my friend, a newlywed, money-conscious Millennial, bought a house with her husband in West Philadelphia.
In a slowly gentrifying neighborhood, they have a three-bedroom home with a full patio and finished basement for less than a one-bedroom apartment and many studios in the heart of the city.
A minimalist with the hopes of eventually having children and making over $100,000 a year, she does everything she can to save money. For a few months now, she's been renting out her home to strangers via Airbnb, and she continued offering her services during the Democratic National Convention, which was held in Philly and ended on July 28.
Some people may see this as an easy way to be robbed, assaulted or possibly featured on the next episode of "Dateline NBC."
Yet, my friend and her husband managed to invite guests from all of the world, including places in China, Japan and Europe, into their home to use their two nicely furnished back rooms. What are the perks of providing this service?
The benefits of renting your home on Airbnb
Here are a few things my friend and her husband have been able to do since they started renting out their rooms:
Live rent-free: They earn such a considerable amount of money a month through renting out their home that they do not have to pay for their rent or utilities with their own salaries.
Save up: They are able to put money away since they are basically living rent-free.
Take vacation: They have been able to save up money for a trip to Thailand in October.
Make a slush fund for home emergencies: Home upkeep can be costly. Their Airbnb money is also useful for fixing leaky faucets. Once again, it is not coming out of their pockets.
Since they have two additional rooms, they are able to optimize the space for up to two guests in each room. Their normal rate for their smaller room is $59 a night, no extra charge for an additional person.
Their other larger room is $69 per night and $15 for an additional guest. Yet, with the DNC in town, they charged $90 for the small room and $100 for the big room, charging an additional $30 per room, per night!
With all of the perks, you may be wondering what the catch is. When it comes to inviting strangers into your home, there are precautions any person looking to rent should consider.
The number one issue is safety. The DNC brought excitement, life-sized Hilary Clinton cut-outs and politically revved speeches by the Obamas. If you didn't catch those speeches, you can watch Michelle Obama's here and you can see the president's speech here.
Yet, the DNC also brought relentless protests as well as anger and provocation brought on by the growing lack of trust in the politicians holding the fate of our country in their hands.
Letting someone into your home during a time of political turmoil can be unnerving.
Yet, my friend rented out her home to a mother and son, and she survived the frenzied DNC week in the City of Brotherly Love thanks to some straightforward safety and security measures.
Five safety rules for renters
1. Get top-notch security systems: Before renting out her home with Airbnb, my friend and her husband installed security systems. They have a traditional security system by Victor Security, Inc. that allows them to turn their house alarm on and off remotely.
They also have cameras on their first floor and a Kwikset code lock that allows them to create unique passcodes for each guest. When their guests finish the duration of their trip, my friend simply changes the code on the door.
2. Designate specific check-in hours: My friend and her husband set strict guest check-in hours, specifically between 6-9 pm during the weekdays.
If the guests cannot check in during those hours, they cannot stay. Why? Being there when guests check in puts names and voices to their faces. It allows my friend to feel more comfortable with the guests and the guests to feel more comfortable in her home.
3. Create house rules: My friend has a list of rules on her Airbnb posting that helps set the standard for the type of guests who book her rooms. Here are some examples:
Make sure the front door is locked at all times.
Please communicate with us when you will be leaving and returning to our house. We will want to arm the security system if you will be gone the entire day.
Once you have checked in, you will receive a passcode to our front door and instructions on how to leave and return.
4. Write your guest reviews: Airbnb allows you to review your guests, and your guests review you! That means you can provide a rating that gives other renters a heads-up about a particular guest.
Top-rated guests are allowed to automatically book, but those with lower ratings have to ask for permission before booking with you. Lower-rated guests also have to include information about the duration of their stay, the time of their arrival, how many people they are bringing and why they are staying (e.g. a conference at the University of Pennsylvania).
This feature allows you to filter out the types of guests entering your home, and it can give you a sense of security about your guests.
5. Remember your comfort is first and foremost: While you can gain extra cash in your pockets by renting out your home, your comfort comes first.
If you have a "no shoes" policy or have a pet peeve against leftover toothpaste sticking to the bathroom sink, make your guests aware. Also, you do not want to feel restricted in your own home and have to worry about someone taking your things.
If you have valuables out and know you have a guest coming, consider putting them in a secure place. You should also consider putting a lock on your bedroom door and having remote-access security cameras in certain spaces. While this may be costly up-front, you will feel more content as a renter with the peace of mind.
No matter what precautions you take, expect humans to be humans. While some of your guests may be so quiet they are completely unnoticeable, you may also run into guests who bring their own drama.
For instance, two guests were staying with my friend during the DNC who had a dispute right in her living room as she cooked in the kitchen. One person ended up storming out and not returning until early in the morning.
While an experience like that may turn people off to renting out their homes, my friend considered all of the outcomes of having strangers in her home prior to their stay. Therefore, rather than kicking them out or avoiding the guests, she checked in and made sure everything was OK.
When thinking about renting out your home, keep an open mind to the benefits it may provide and the effects it may have on your privacy and personal space.
With the cold months and holiday seasons rapidly approaching, you can get a jump start on your gift shopping and heating bills by becoming a renter with Airbnb. Visit Airbnb.com for more information.