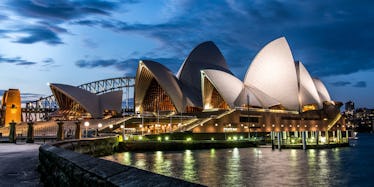 10 Things You Can Do In Sydney Without Ever Stepping Foot On A Beach
Shutterstock
I'm a summer girl at heart, which partially explains why I'm a Canadian living in Australia. I originally came to Sydney for the amazing weather and the even more amazing beaches, though I quickly learned that Sydney has so much more to offer.
Here are 10 things to do in Sydney when the weather isn't fantastic:
1. Explore the Royal Botanic Gardens.
The Royal Botanic Garden has been around for a couple of decades — since 1816 to be exact. It's open daily and there is no entrance fee; just head over and enjoy. The plants are really cool and the sheer size of some of the trees is pretty impressive. There are also a few spots that make for awesome picnic locations, so pack a lunch and enjoy the fantastic views.
2. Take in a light show during Vivid Sydney.
Vivid is basically an outdoor light festival where landmark buildings are used as the backdrop for stunning light shows. There are so many ways to take it all in, from wandering around the city on foot (free) to cruising around on a fancy dinner cruise (pricier).
3. Conquer the Manly to Spit Bridge Coastal Walk.
A temperate day is the perfect time to complete this 6-mile walk. Grab a friend on a sunny afternoon and spend a few hours taking in some pretty spectacular views. Reward yourself with lunch in Manly after you've finished.
4. Spend some time in Centennial Park.
Centennial Park makes up 467 acres of Sydney's Eastern Suburbs, and is enjoyable any time of year. There's plenty of shade in the summer and plenty of sunny spots in the winter. You can find ducks, barbecues, running trails, horse riding, cycle rentals, sports areas and more.
5. See a live show.
One of the many awesome things about Sydney is the great live theater. From events at the opera house to local performances at tiny theaters, there is always something to check out.
6. Go to a rugby game.
Given the summers are so hot in Australia, many sports are better played in the winter, including rugby. Both Australian rules football and rugby league football host their sporting seasons in the winter, so there are plenty of games to watch, either live or from the pub.
7. Head to Royal National Park.
Royal National Park is a massive park south of Sydney (seriously, it's almost 60 miles) and is just 18 miles from the Central Business District. Head to Audrey Boatshed to rent a canoe, kayak or a rowboat. There are also plenty of walking trails and some pretty cool waterfalls to explore as well.
8. Unwind in the Chinese Garden of Friendship.
The Chinese Gardens of Friendship was created in the 1980s as a symbol of the bond between Sydney and China. The beautiful Chinese architecture within the garden is contrasted with modern skyscrapers in the distance. It's hard to pass up a visit when the entrance fee is only $6 for adults.
9. Escape to the Hunter Valley.
I would argue that the Hunter Valley is great every day of the year. It's just a couple hours from Sydney, the wineries are awesome, the service is great and the scenery is beautiful.
10. Indulge in a long lunch.
Another activity that is great any day of year is a long lunch with friends. Sydney has some really amazing lunch spots, and you basically can't go wrong by going somewhere with a water view. There's also a handful of venues that do a pretty fabulous champagne brunch.