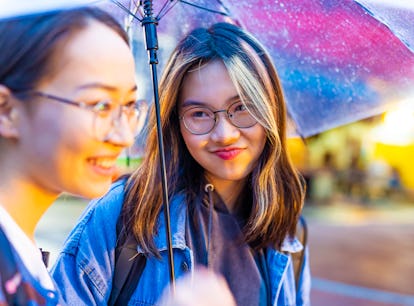 This Is How To Style Your Hair In Humidity, According to Experts
davidf/E+/Getty Images
Moisture-rich weather can flatten a blowout and cause a halo of flyaways or frizz to float up on otherwise smooth hair. If you're anything like me aka basically willing to do anything to keep your hair frizz-free, overcast skies can cause you to seriously reevaluate your whole aesthetic. There's so much information out there surrounding fighting frizzing, deflating, and other hair concerns caused by humidity that it can be difficult to know where to start, which is why I'm here to let you in on a huge secret: styling in humid weather depends more on your hair type than on the weather.
While it may seem obvious, there's actually a lot of nuance surrounding how and why different hair types require different styling products. Whether you're looking to rock your natural curls or seal in straightened hair, styling your hair how you want during humid weather is possible, you just have to know a few basics. To break down everything you need to know about looking good during the least desirable weather, I tapped four haircare experts to share all the details of how to simplify, customize, and streamline your humidity hair care and styling routine, according to your hair type.
We may receive a portion of sales if you purchase a product through a link in this article.
Experts:
Jason Lee, hairstylist, colorist, and founder of Mela & Kera
Tim Abney, ColorProof hairstylist and educator
Aaron Grenia, co-founder of IGK Hair Care
Roger Azadgania, founder of äz Craft Luxury Haircare