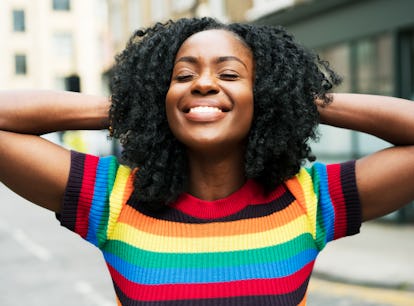 Shoppers Say These 17 Products Make Co-Washing Curly Hair So Easy
Caring for curly hair is no easy feat, but co-washing is one technique that can make it easier. Co-washing curly hair can prevent the dryness, breakage, and other issues caused by over-shampooing, and it's simple to do, especially if you have the right hair-care products in your arsenal.
"When curly-haired people find themselves in a position where they must wash their hair frequently due to workouts or other lifestyle factors, it can lead to dryness in the hair. This is when co-washing comes into play," says curly and natural hair expert Quia. Simply put, co-washing is the technique of using conditioner instead of shampoo.
Rather than cleansing agents removing dirt and build-up, co-washing manually breaks down product build-up and dirt from the scalp without stripping your hair of the oils that curls especially need. Co-washing isn't meant to totally replace shampoo, but if you've got curls, you know that wash day comes about once a week or so, depending on your specific hair.
While co-washing itself is simple, shopping for the right co-washing product for your specific hair type can be confusing because they're not always called co-washes. Since co-wash technically stands for "conditioner wash," which itself means washing your hair with conditioner, co-washing products might be called cleansing conditioners, co-washes, or simply conditioners that are used by the curl community as co-washes.
Admittedly, it can all sound pretty complicated, but don't let the sheer number of options deter you from trying out co-washing if you have curly or coily hair. Finding the right co-wash for you is as simple as identifying your hair's basic needs. If it's extra dry, look for an ultra-hydrating co-wash with all-star humectants (hydrating ingredients) like shea butter and avocado oil. If your hair is prone to breakage, it could be worth trying a strengthening co-wash. At the end of the day, co-washing is simple — even though the options can seem endless — and the benefits include less buildup on your scalp, as well as bouncier, shinier, and more hydrated curls.
These 17 cleansing conditioners are designed to keep your curls hydrated *and* clean between shampoo sessions. Not only are they the most loved co-washes for curly hair according to Amazon reviews, but they all get the job done for under $35.
We only include products that have been independently selected by Elite Daily's editorial team. However, we may receive a portion of sales if you purchase a product through a link in this article.
Expert cited: