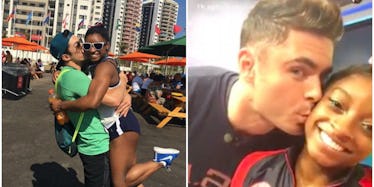 Simone Biles' Protective 'Boyfriend' Calls Out Zac Efron Over Kiss
Instagram/Snapchat
The battle of the baes just got real for Simone Biles.
In case you haven't noticed, the 19-year-old US Olympic gymnast is pretty in demand at the moment.
It might have something to do with her all-round AWESOMENESS.
She's always had a thing for Zac Efron, but then there's Brazilian gymnast Arthur Nory -- what's a girl to do?!
But things got real tasty between Zac and Arthur on Instagram on Wednesday.
Arthur, Simone's "Rio boyfriend," went all protective mode by posting a picture of the couple hugging with the caption:
Hey Zac Efron I saw her first...she is my girl. Proud of you Simone! You are phenomenal and special. You made history. Love u.
OOOOOO. You gonna take that, Zac??
Arthur definitely hasn't taken too kindly to that Snapchat video of Zac giving Simone a kiss on the cheek.
The star made a surprise trip to congratulate the gymnastics team on Tuesday, and Simone couldn't contain her excitement.
In fact, you can see her physically swooning in this video: