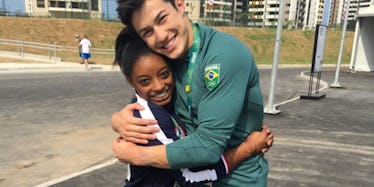 People Keep Shipping Simone Biles And Another Gymnast Over Their Twitter PDA
Twitter
The Olympic gymnastic teams are just hot cesspools of horny, muscular youngsters on the brink of their sexual awakening.
Stuff is going to happen if you throw them together in a sticky country and make them sweat for gold.
So it's no wonder we're already hearing about one romance between an American and a Brazilian gymnast.
Simone Biles, 19, and Arthur Nory, 22, are getting dangerously close on social media.
my brazilian boyfriend @arthurnory pic.twitter.com/nhwPZWwPL7 — Simone Biles (@Simone_Biles) July 29, 2016
Do you think they can even understand each other?
It doesn't matter.
Who needs conversation when you have the biceps of a Greek god and the rippling abs of Daniel Craig as James Bond?
But don't you hurt our Simone, Arthur. Don't you even think about it. You'll have half of 'Merica on yo' ass if you break her heart.
Everyone's rooting for the couple:
Look, we don't even care about the Olympics anymore because these guys are already winning gold in our hearts.
*Wipes tears of emotion from cheeks*