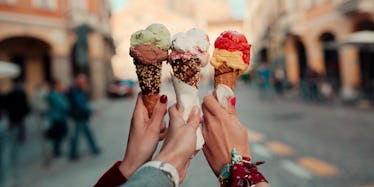 Listen Up: Here's Where You Can Get Free Ice Cream On National Ice Cream Day
Maja Topcagic
Ice cream lovers, brace yourselves for the best day of the year: Sunday, July 16.
I'm talking about National Ice Cream Day, y'all!
Whether you keep it simple with vanilla or prefer to go crazy with the extras at Carvel, rest assured there will be zero shortage of your favorite treat on this holiday — and you won't even have to pay for it.
A handful of popular spots will actually be offering free ice cream to celebrate National Ice Cream Day.
Yes, you read that right: F-R-E-E.
To ensure you can roll through every single ice cream hub this weekend, keep reading for a handy list of where to go and what to get for a budget-approved $0.
Spoiler alert: The possibilities are practically endless.
Carvel
Carvel is celebrating with a BOGO deal on soft serve ice cream cups or cones. Peep the full list of flavor options now so you're ready to order like a pro on Sunday.
Dippin' Dots
Dippin' Dots (aka the best part about any mall) is offering its customers a free mini cup of ice cream dots at participating locations. Check with your local store to find out exactly when, as their website says the deal will only last for two hours.
Magnum New York
New Yorkers, plan to stop by Mangum's NYC pop-up in the Meatpacking District for a very tempting two-for-one deal on their beautiful bars.
McDonald's
Repeat after me: free vanilla soft serve! Finger's crossed you get the coveted golden cone and win a lifetime supply.
Whole Foods Market
For one day only (July 16), you'll be able to score two pints of Ben & Jerry's for just $6 at Whole Foods. It's not free, but it's still cheap AF and totally worth it.
I love it when hyped grocery stores participate in important holidays.
So, fellow ice cream addicts, where to first? I'm thinking McDonald's, because my inner Willy Wonka fan needs to get the golden cone!