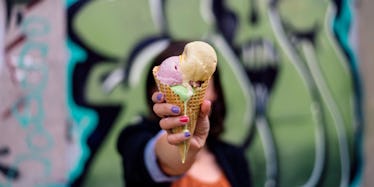 9 Healthy Ways To Celebrate National Ice Cream Month That Are Still Tasty AF
I don't know when all of these quirky, food-centric "national" holidays became a thing (does anyone?), but despite my loathing of all things summer heat, I'll gladly scream in celebration of July being National Ice Cream Month.
Not only do I go for seconds after a scoop of mint chocolate chip, I even take one or two bonus spoonfuls before putting the half-empty pint back in the freezer.
Because, well, ice cream is life, amirite?
But sugar-packed pints can definitely leave your body feeling slow and sluggish, which certainly isn't helpful if you decide to go to Cold Stone Creamery for a midday pick-me-up cone on your lunch break.
Thankfully, there are plenty of healthy alternatives to your typical ice cream that are still absolutely delectable on a hot summer day.
Indulge smarter this summer with these tasty, healthy options tempting you to take another spoonful -- and another, because why not?
1. Go For Gelato
You don't have to be Italian to indulge in the country's frozen delicacy, and this season, you can even do so with less strain on the belly!
Talenti's new Peanut Butter Fudge Sorbetto is made with peanuts, alkali-processed cocoa, chocolate, and coconut oil for rich, creamy flavor that melts on the tongue.
It may be vegan and dairy-free, but it still tastes like a dream.
2. Pack In The Protein
There are a few low-cal, high-protein options for fitness enthusiasts looking to meet their macros or anyone who's looking to increase their protein intake.
I'll admit, a few years back, I was not a huge fan of Arctic Zero by any means. But their new chunky formulas have persuaded me otherwise.
If you're a chocoholic, the Rocky Road Trip ice cream is nutritionally dense with a strong chocolate flavor and packed with chunks of marshmallow and toasted almonds.
Yum.
3. Don't Do Traditional Dairy
Unfortunately, lactose intolerance isn't uncommon, which makes a few scoops of ice cream potentially problematic for a lot of people.
Fortunately, non-dairy alternatives like almond, cashew, and coconut milks make it doable and delicious for sensitive stomachs to indulge.
My personal favorite so far has been the SO Delicious Cashew Milk Dairy-Free Snickerdoodle Ice Cream.
If your go-to flavor is cookie dough, you'll absolutely want to give this pint a try.
4. DIY A Bowl of Nice Cream
One of the healthiest versions of the many no-churn options out there: throw a few frozen bananas into a food processor.
It's really as simple as that.
Get fancy with additives like cacao powder, frozen berries, cinnamon, vanilla extract, almond milk, and more.
It's your churn now (see what I did there?), so top according to your taste buds.
5. Swap Waffle Cones For Open Waffle Sandwiches
There's arguably nothing better than growing up with a father who once worked at the Dairy Queen when he was a teenager.
Sure, he mastered banana splits and used an ice cream scooper the way an artist uses a paintbrush (precisely, with no room for error), but his waffle sandwiches were always my favorite.
Buy your favorite flavor and a pack of mini organic waffles, or waffle wafer cookies, and you're well on your way.
Simply toast or microwave one waffle, and scoop or spoon your ice cream on there while the waffle is still warm.
6. Limited Sugar Licks
I can hear the groan all the way from the other side of this screen, but trust me, a treat can still be delicious with all the sugar.
Popsicle's no-sugar-added Fudgsicles are about to blow your mind and taste buds because, speaking as a chocoholic myself, I couldn't even tell the difference.
Yep, it's basically a miracle on a stick.
7. DIY Froyo S'mores
OK, so this one isn't ice cream in the traditional sense, but if you're looking for a healthier alternative, it gets the job done flawlessly.
All you'll need are graham crackers, vanilla bean greek yogurt, a piece of dark chocolate, and a freezer.
Compile your ingredients like you would construct a s'more, and stick your grab-and-go treats in the freezer overnight.
It's not exactly campfire quality, but it's still tasty AF.
8. DIY Yogurt Pops
On this edition of I-can't-believe-it's-not-ice-cream, grab your favorite flavor of Greek yogurt and get crafty in the kitchen.
You can purchase your own popsicle molds or stick to ice cube trays if that's easiest.
Combine yogurt with fresh fruit, chocolate chips, or coconut flakes. Cover the tray with plastic wrap, and secure popsicle sticks into each square.
Stick in the freezer overnight and voilà! Instant dessert (or breakfast).
9. Choose Fruit Toppings
Whenever I treat myself to some froyo, I always top that bad boy with kiwi, banana chips, strawberries, and chocolate chips for both flavor and nutritional balance.
These fruits contain a ton of natural sugar that's every bit as satisfying as the candy add-ons, but overall, is a lot better for your body in the long run.