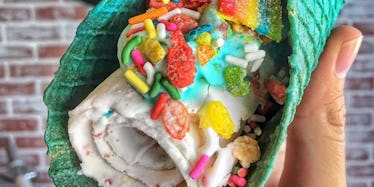 Rainbow Ice Cream Tacos Exist And They're Winning The Unicorn Food Game
Sweet Cup
Step aside, unicorn pizza. The colorful uni-food world has a new winning member: rainbow ice cream tacos.
Say what?!
The sugary treat hails from Orange County, California ice cream shop, Sweet Cup.
Rolled ice cream fans flock to the eatery on the reg for their take on the dessert.
Sweet Cup serves ice cream cups and what not, but the real star of their menu has got to be the ice cream tacos, which are only available on Tuesdays for — you guessed it — Taco Tuesday.
My childhood favorite Choco Taco has been upstaged, guys.
For reference, here's how rolled ice cream is made:
In an interview with Thrillist, Sweet Cup owner Kenny Tran said that he initially wanted to open a boba shop but his brother suggested he add ice cream to the menu, too.
So the Southern California native "decided to bring the taco to ice cream and make it that popular" using his knowledge of boba flavors.
I think it's safe to say he succeeded.
Personally, I'm lusting after the beautiful unicorn creation pictured on the right -- dubbed Fruity Pebbles-filled Rainbow Road -- but Kenny told Thrillist that Sweet Cup's most popular taco is actually the one on the left, called Monster's Inc.
It starts with a blue vanilla base with chopped chocolate chips and Oreos mixed in.
Then, the sweet treat is rolled up into a perfectly-sized portion and placed inside its waffle cone shell before being topped with whipped cream, two cookies, and a chocolate drizzle.
I'm drooling.
Sweet Cup has even more flavors on their Taco Tuesday menu, including s'mores-flavored tacos and another super innovative, anti-unicorn option: charcoal black coconut.
(It's garnished with edible gold, so there is a bling factor.)
They also have a matcha taco that will pair perfectly with my new favorite lemonade from Starbucks.
The next time I'm in Cali, I will be stopping by Sweet Cup. Period.