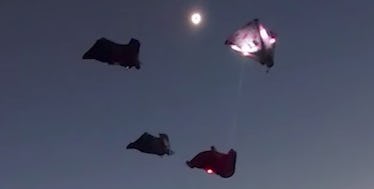 Video Of Skydivers Soaring Through The Air During Solar Eclipse Is Breathtaking
YouTube
The moon certainly captivated America's attention on Monday, Aug. 21. The solar eclipse left everyone looking up (with protective glasses, of course... unless you're Donald Trump) and eagerly awaiting the moon to throw some shade. While you were watching from below, some people took their eclipse viewing party to new heights... literally. This video of skydivers falling during the solar eclipse will make your time spent on the ground seem pretty boring.
Six professionals took the leap at 14,000 feet in Madras, Oregon at 10:18 a.m., which was approximately 30 seconds before the eclipse reached totality, according to TIME. Oregon was the first location to kick off the Path of Totality, and these jumpers didn't waste any time getting in on the action. Let's just hope that their protective glasses managed to stay on securely while falling thousands of feet in the air.
One of the adrenaline junkies, @savagesic on Instagram, captured the moment of the jump. He said in the caption, "This picture tries to capture 8 months worth of planning from so many people." After a slew of thank-you's, he added, "This jump will be remembered forever and will go down in the record books for many '1st time humans have done something like this' The Stoke is HIGH!! Much more to follow. We hope this pic slightly captures the intense moment."
Could you imagine a birds-eye view of the eclipse?
It's pretty sick, and to top it all off, the jumpers' gear bear a striking resemblance to Batman's suit, so this is just an all-around win. If you're feeling a little blue now that the moon's moment in the spotlight has come to a close, fear not. There are still ways you can use those glasses (even if you wore them for a solid few minutes). Enjoy the social media ranking of the celestial phenomenon or bask in the glory of some amazing solar eclipse memes.
It seems the moon isn't ready to let her big moment fade away just yet.