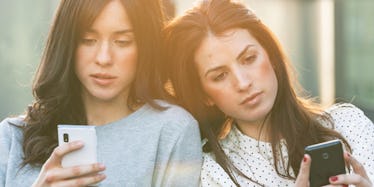 Your Ex's Stories May Pop Up On Instagram Even If You Don't Follow Each Other
BONNINSTUDIO
By now, we're all familiar with Instagram's new feature: Stories. It's almost uncomfortably close to Snapchat.
I mean, they're basically the same. Before we know it, Facebook, Snapchat and Instagram will all be one big app.
Stories rolled out about a month ago, and Instagram is already throwing out new features following its release.
The latest one? The "Explore" feature.
Now, Instagram Stories from people you don't follow – but maybe your friends do – will show up in your Stories feed. Think of this update like Facebook's "people you may know" feature. The app will make suggestions based on who your friends follow.
This update is great if you want to keep your feed fresh... but it's not that great if you're trying to avoid stalking an ex on social media.
It's already hard enough to pretend like your exes don't exist on social media. This Instagram update makes it even more difficult.
Also, if you're trying to avoid your exes because you stalk them too much on social media, this feature will make it hard to keep temptation at bay. Keep in mind that people can see which people have viewed their Stories.
So, yeah: Have fun trying to avoid watching your ex's Instagram Stories now.
Imagine scrolling through Stories before bed, and BAM: There's your ex's big, dumb face. Going to sleep after that kind of Insta-ambush would be pretty difficult.
So, unless your friends unfollow your ex on Instagram, you might have to watch out if you're trying to avoid your former SO on social media.
But there's still some hope: This feature is rolling out GRADUALLY. So, you won't have to worry about accidental ex stalking just yet.
Citations: Instagram Stories diverges from Snapchat by suggesting who to follow (TechCrunch)