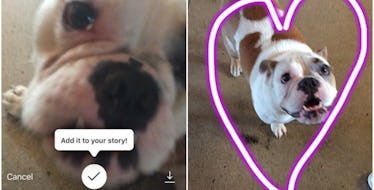 We Tested 'Instagram Stories' To See If It's Worth Using Instead Of Snapchat
Elite Daily
Interesting.
It looks like Facebook's Instagram totally ripped off Snapchat.
The picture-sharing app just dropped an update containing a major new feature: Instagram Stories.
Sound familiar? That's because Snapchat has a feature called Stories as well, and it pretty much does exactly the same thing.
Hey, if you can't beat 'em, might as well join 'em, right?
Instagram announced the new update in a blog post on Tuesday.
It's already available to some, but the rest of us should have it within the next couple of weeks as it rolls out on iOS and Android.
So how does it work? We gave it a quick whirl with our office dog, Daisy. It's the least she could do (her workload has really been lacking since she arrived yesterday).
So, how do you know if it's available to you yet? When you open Instagram, your home screen will look like this.
To start using the feature, take an Insta pic as per usual and then save it to your Story.
Make it pretty.
Art:
You can also choose whom you want to share your Story with...
...and see who viewed your story.
You can add to these stories as much as you want because after 24 hours, they disappear.
Hmmmm. It seems like the only thing different about Instagram's version compared to Snapchat is being able to hide your story from specific people. Otherwise, it's almost EXACTLY the same.
Consensus? It's probably not worth it to switch over.
I mean, come on, Insta. At least think of a different name before pissing all over Snapchat's parade!