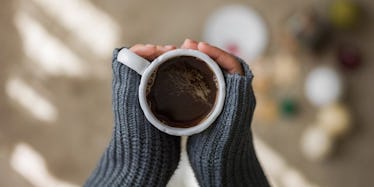 Oreo Hot Cocoa Has Arrived And It'll Make You Forget All About The PSL
Milles Studio
Talk about jumping the gun. Fall technically hasn't even arrived and customers have already maxed out their credit cards with morning Pumpkin Spice Latte orders. Now it appears September is the appropriate time to start thinking about the holidays. Foodies have spotted Oreo Hot Cocoa mix on shelves, and it's putting them in a Christmas state of mind. If you're feeling festive and wondering where to buy Oreo hot chocolate, I have you covered.
But first, it's time to get the necessities in order: a warm blanket, a sturdy mug, and of course, a lit fireplace. The hot cocoa experience is about to head to a whole new level thanks to this festive concoction. But there are a few things to know before adding marshmallows to your shopping list.
For one, Oreo has yet to confirm the product release. However, foodies have caught a glimpse of the treat on the shelves at Walmart, according to Delish. Meanwhile, The Impulsive Buy predicted that the Oreo Hot Cocoa would arrive this year. Who could blame milk's favorite cookie for taking on a whole new form and wowing us with its brilliance?
If customers are already perusing the aisles at Walmart, they might as well take a look to see if they can score a box of this fantastic find. All that's left to complete the experience is a cold winter's night and a good book. 
Oreo has been on quite a creative kick as of late. This summer was filled with out-of-the-ordinary flavors to mark various occasions. Take for example the limited-time Firework Oreo — the perfect way to get the Fourth of July festivities going thanks to the chocolate cookie wafer and a popping candy filling. Then, milk's favorite cookie switched gears to back-to-school season with the release of its Peanut Butter and Jelly Oreos — an inventive flavor if ever there was one. Who could resist a few of those bad boys in their lunchbox?
But perhaps the one that got the most buzz, quite literally, was the Dunkin Donuts Mocha Oreo. The dream team of sweets would make any chocolatier or coffee aficionado proud. No one could resist a hint of chocolate with a dash of coffee, and rightfully so. This isn't the only time the two have collaborated. Dunkin Donuts released a Oreo Hot Chocolate last year, so perhaps the masterminds behind the glorious union started taking notes for the future.
Customers are also the ones who should have been taking notes. Oreo held a contest earlier this year that promised half a million dollars to the genius who came up with the brand's next big flavor. Obviously extensive research — and by extensive research, I mean snacking — was required for such an undertaking. Only the most creative and hungry bakers were up for the challenge... as well as those really hungry for some serious cash.
Oh, the possibilities. Those who aren't quite ready to part ways with fall just yet — considering it still hasn't even begun — can enjoy the Pumpkin Spice Oreo. That's right: First the Dunkin' Donut treatment, and now Oreo has paid homage to the highly coveted Starbucks flavor. There's no better way to ring in the season (or weeks before the season, apparently) than adding a little pumpkin to some snacks. Pumpkins do have their health benefits. Firstly, it helps people's digestive tracks by keeping them fuller longer. It's even believed to help improve eyesight and get things cookin' (if you catch my drift).
For those who have already put the marshmallows and whipped cream in their baskets in anticipation of the Oreo Hot Cocoa, be on the lookout for a confirmation from the company. No matter what season people are living in, milk's favorite cookie is here to provide the goods.
Check out the entire Gen Why series and other videos on Facebook and the Bustle app across Apple TV, Roku, and Amazon Fire TV.