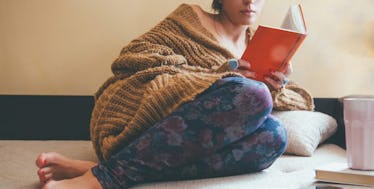 These Are The Books You Need To Add To Your Reading List This Fall
Autumn is the perfect time of year to cozy up with a warm drink -- it is Pumpkin Spice Latte season, after all — and of course, a good book. When the temperature dips and the outdoors aren't quite as pleasant as they were months before, grab a blanket and kick back with a story. No matter your interests, there are tons of books to read this fall that are perfect for the season.
If you are looking for a thrill:
This suspenseful tale follows a grieving woman named Jessa who is trying to uncover exactly how her ex-boyfriend died. When she begins to gather his belongings, memories resurface that make her question their entire relationship.
Fragments of the Lost, $12, Amazon 
The former Cosmo editor in chief continues her Bailey Weggins mystery series with a step back in time to her college days. When her friend Jill — who has everything and more — discovers her family has been murdered, she can't believe the news. Years later, when Bailey runs into Jill at an event, Jill is begging for help to find the real killer, as the man who was accused is soon-to-be cleared of the crime.
Even If It Kills Her, $16, Amazon 
A Cleveland woman named Elena rents a home to a single mother and her daughter, though this mom clearly has a mysterious past. When Elena's friends attempt to adopt a Chinese-American baby, a custody battle divides not only the neighborhood, but the strong bond Elena and her family have formed with this mother-daughter duo. What's she hiding?
Little Fires Everywhere, $16, Amazon 
If you want to celebrate the season:
Though technically a spring 2017 release, Reichert's love story about a cider maker whose life is thrown upside down when a handsome fella arrives in town pairs perfectly with a piece of apple pie (or two) and a cup of tea.
The Simplicity of Cider, $11, Amazon 
If you're looking for something emotional:
Pearl's couple is looking to make a struggling marriage work, all while secrets from the past come back to haunt them. Though a serious topic, readers are also gifted with traces of humor from the NPR commentator's debut novel.
George & Lizzie, $15, Amazon 
If you're a history buff:
This true account of Elizebeth Smith and her husband details how they invented cryptology and used it to fight against the Nazis in WWII... and ultimately win the war.
The Woman Who Smashed Codes, $16, Amazon 
Egan rose to fame with her bestseller A Visit From the Goon Squad, so naturally, her fall 2017 release is highly anticipated. Manhattan Beach, the author's first foray into historical fiction, follows a young girl whose father vanished at the onset of World War II. As the first female diver to examine and repair the country's ships -- a crucial occupation during the war -- she comes to figure out just how her father might have disappeared when someone from her past reemerges.
Manhattan Beach, $17, Amazon 
If you're looking for something fun:
A British blogger presents readers with a collection of essays — rather, do's, don'ts, and words of wisdom.
Secrets for the Mad: Obsessions, Confessions, and Life Lessons, $13, Amazon 
If you're looking for a story for Gen Y:
A must for millennials, this novella chronicles a long-distance relationship from summer to summer and packs in the emotion and humor.
I Don't Think of You (Until I Do), $12, Amazon 
If you're looking for a fairytale twist:
Hiddensee by Gregory Maguire
From the author who brought us the beloved Wicked comes a story of the Nutcracker and Drosselmeier, the toymaker who created him. This fantasy is a perfect holiday treat.
If you enjoy holiday drama:
For the first time in years, the Birch family will be together for the holidays... without WiFi and with one member of the clan who needs to remain in quarantine and another who is hiding one juicy secret.
Seven Days of Us, $25, Amazon 
Find out what happens when two lives of two strangers intertwine on Thanksgiving in an airport restaurant.
Start Without Me, $27, Amazon 
If you can't get enough of politics:
The title says it all. These collections examine what is happening in today's political environment and how we can proceed.
Nasty Women, $11, Amazon 
Journey alongside Hillary Clinton and find out what it was like for her to endure one of the most heated and controversial campaigns our country has ever known.
What Happened, $18, Amazon 
If you're a big TV fan:
If you can't get enough of this creepy, gory series, the Wall Street Journal's Walking Dead columnist gives you the inside scoop about the plot, characters, and more.
Guts: The Anatomy of the Walking Dead, $18, Amazon 
If you want to wake up in the city that never sleeps:
Head to the Big Apple alongside Gopnik and his soon-to-be-wife as they leave Canada in search of inclusion in the city's art world.