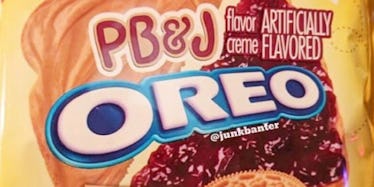 Peanut Butter & Jelly Oreos Exist And They'll Be Your Favorite Lunchtime Snack
Junk Banter
Junk foodies recently caught wind of a potential Cookie Butter Oreo flavor, but an even better, more nostalgic one is already being talked about. PB&J Oreos are reportedly making their way exclusively to Kroger shelves just in time for the back-to-school season. You read that correctly: Peanut Butter and Jelly Oreos, you guys!
Popular food blog Junk Banter shared a photo of the drool-worthy packaging, and beyond looking insanely delicious, it oozes back-to-school vibes.
There's even a sweet math problem on an illustrated chalkboard next to an enlarged version of what's inside the package. Peanut butter flavor creme + jelly flavor creme = PB&J cookie magic. (I couldn't have said it better myself.)
Junk Banter agrees, writing beneath its revealing photo,
Woke up to some porn in my inbox today. New PB&J Oreos! This has long been a dream flavor for me and is the perfect release for back-to-school season (peep that chalkboard math on the package). My intel suggests they're exclusive to Kroger stores, which makes sense since Kroger got an exclusive last August too (the awful Swedish Fish). These will be on shelves as soon as today.
As for the flavor, I'd imagine the filling to taste something like those two-in-one peanut butter and jelly tubs. You know, the ones where you just need to swipe left to right for a bit of both PB and J on your butter knife. It actually looks like it, too.
Since the cookie is blonde, it's probably going to taste like standard shortbread — which is not a problem considering the creamy goodness on the inside will literally taste like your former lunchbox staple.
You could just keep these at your desk and call 'em lunch, but if not, they're certainly a genius snack idea to have on hand at... I don't know, all times.
That said, look out for your new favorite Oreo flavor at Kroger (or any Kroger affiliate)!